Global NCAP has awarded the Indian made Renault Duster compact SUV zero stars in its recent crash tests.
The French company which claims the Duster as Big on safety has failed the test with 0 rating for the base variant and the Duster with a driver airbag was awarded a 3 stars.
The Duster, which is sold without airbags in its basic version, recorded a disappointing zero stars for adult occupant protection. The crash test showed that due to the lack of airbags the driver injuries would have been unacceptably high. The Duster also scored 2 stars for rear seat child occupant protection.
Global NCAP decided to further investigate the Duster as a single airbag version was tested by Latin NCAP in 2015 where it scored 4 stars. It was found that the Indian Duster airbag was smaller than that of the Latin American Duster.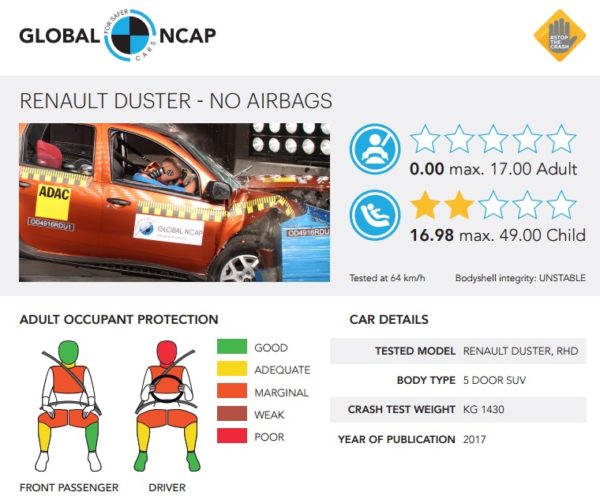 According to Global NCAP with the Indian Duster the head of the driver did not contact the airbag in the centre as it should, exposing the head to impact on the steering wheel and therefore more risk of injuries. This can be seen when the head reaches maximum front excursion and compresses the airbag. The Latin American Duster airbag on the other hand was a larger size and covered the head and chest of the driver. With the head in maximum forward excursion the airbag still shows containment to the head protecting it from the steering wheel.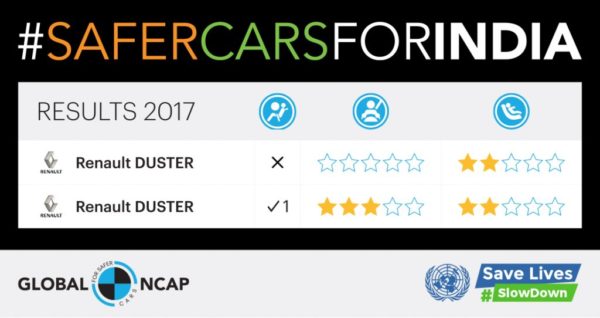 India will soon adopt new crash test norms starting October 2017 that will meet the UN testing practice of 56 km/h frontal offset and side impact crash norms. By 2019 all cars will have to pass the new Indian crash norms.
Dual airbags and ABS are only fitted in the top-end RxS and RxZ grades of Renault Duster, while the RxL grade gets a single airbag + ABS, and the RxE if fitted with ABS only.
Renault recently launched a new version of the Duster Xtronic with CVT and also added more equipment.