Hyderabad youth drives home safe in a Alto 800
In the final round of Maruti Suzuki Young Driver 2014, Hyderabad youth drove ahead of 29 finalists and bagged the title of 'Maruti Suzuki Young Driver of the year 2014'. At the final test conducted at the Institute of Driving &Traffic Research (IDTR), Pranay Agarwal proved himself as the safest driver from across India.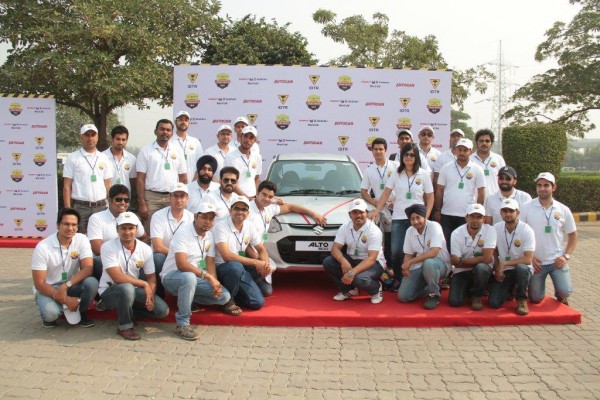 Aimed at spreading awareness of safe driving practices, Maruti Suzuki Young Driver 2014, now in its sixth edition, is a nationwide hunt for India's best young driving talent. It tests the competitors' knowledge of traffic regulations and consciousness of road safety, along with their on-road driving skills. This year's contest reached out to over 24,000 youth through an online theory quiz, followed by skill driving tests conducted at Maruti  Driving Schools (MDS) across 42 major cities of the country. The 30 contestants who cleared the first two test levels underwent the final round at the IDTR and were adjudged by professional IDTR trainers to select the safest Indian young driver of the year.
Speaking on the occasion, Mr Mahesh Rajoria, General Manager, Maruti Suzuki India Ltd., said, "Being India's most trusted car maker, we also believe in creating trustworthy drivers in the nation. Therefore Maruti Suzuki Young Driver makes an apt platform to send across the message of safe driving."
Hormazd Sorabjee, Editor, Autocar India, said: "While passion and performance are usually associated with driving, we believe precaution is a factor that must not be ignored. Young Driver is our attempt at driving deep the message and method of conscious driving with the aim to make Indian roads safer for all. India accounts for about 10 percent of the road accident fatalities across the globe. We hope our efforts make a difference."
While Pranay ranked as the safest driver of the country, he was closely followed by Abhishek Mishra from Gurgaon and Karanveer Singh from Jalandhar as the 1st and 2nd runners up, respectively.
About Maruti Suzuki Young Driver 2014
Maruti Suzuki Young Driver 2014 is a three-phased competition which tests the participant's awareness about road safety, driving skills and traffic rules. Those within the 18 to 30 age group with a valid Indian driving license were eligible to participate in the contest. Phase 1 saw participants registering on www.youngdriver.in and taking an online theory test in the form of a quiz. Phase 2 included a skill test comprising a driving test at the Maruti Driving Schools (MDS) spread across 42 major cities of the country. In Phase 3, 30 finalists were flown to Delhi for the grand finale where they were judged on the basis of 20 parameters pertaining to safety, vehicle control, theory knowledge and its application while driving. The final Phase saw the winner being adjudged "The Maruti Suzuki Young Driver of the year 2014" and take home a brand new Maruti Suzuki Alto 800.