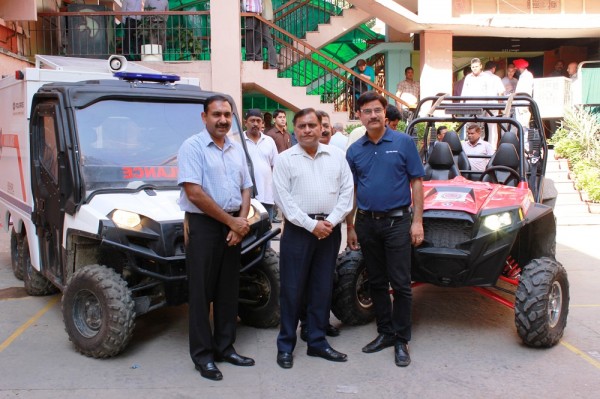 Polaris India Pvt. Ltd, a wholly owned subsidiary of Polaris Industries Inc., the world leader in off-road and All-Terrain vehicles has volunteered four demo Off-Road Vehicles (ORVs) to NDRF (National Disaster Response Force), to assist in relief efforts after the state was hit by floods recently.
The volunteered vehicles are RANGER®6×6 800, RANGER CREW®800, RZR®XP 4 900, Sportsman®MV 700.The vehicles were handed over to 'Shri. O.P. Singh IPS', Director General National Disaster Response Force (NDRF) at New Delhi.
"Floods in J&K have ruined lives and livelihood and we at Polaris are saddened by the magnitude of this distressing tragedy. With the entire system of roads in and around the states damaged and non-existent now, apart from debris on the ground from thousands of destroyed homes, Polaris India can extend a hand of support to help accelerate the relief operations. These specialised Off-Road Vehicles will help in making this area accessible, due to its off roading capability," said Mr. Pankaj Dubey, Managing Director, Polaris India Pvt. Ltd.
Besides the ORVs, Polaris will also be sending its ambulance, which is modified on Ranger 6X6 by Bafna Healthcare Pvt. Ltd which is engaged in manufacturing & trading a wide range of ambulance vehicle and mobile clinic. The Polaris ambulances are built with unmatched traction and capacity. With an engine capacity of 760cc, this vehicle is perfect to manoeuvre on treacherous terrains as well as narrow strips, to supply medical help and assistance to places of difficulty.
Polaris vehicles are specially designed to manoeuvre around rough terrain where best of vehicles fail to run. The vehicles are widely used by defence, Para military forces & police, and disaster management, tourism and forest departments. Models like RANGER® 6×6 800, RANGER CREW® 800, RZR®XP 4 900, Sportsman® MV 700 are built to make damage control & Rescue operations easier with their off-road capability, all-wheel drive and huge tank capacity (water/foam). These vehicles are designed with recommended water fording capability at floorboard level. The use of advanced technology in the vehicles creates smooth ride even when fully loaded. The ground clearance capacity of the vehicles adds to the comfort by clearing obstacles and moving smoothly through ruts and over rough terrain.
"Adding to the gesture of commitment to stand by the nation in this social cause, we also offer to help train the rescue and relief teams about the usage of these vehicles and educate them about their capabilities .We are deputing a technician cum trainer with these vehicles "added Mr. Dubey.