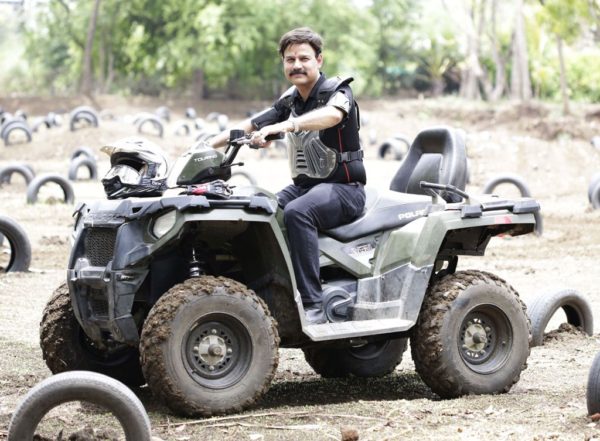 Polaris Experience Zone Off-road Adventure Track at Malad (West) in Mumbai inaugurated 
The legacy of Polaris can be traced back to the 1940s when co-founders Edgar Hetteen, Allan Hetteen and David Johnson started the forerunner of Polaris.
Initially they manufactured Snowmobiles, adding ATVs in 1984 to become a global power-sports giant with a vision to fuel the passion of workers and outdoor enthusiasts around the globe by delivering innovative, high-quality vehicles, products, services and experiences that enrich their lives. And in recent years, Polaris has expanded beyond Power-sports into markets like Commercial and Military vehicles.
Polaris India has taken the adventure quotient for enthusiasts a notch higher by opening one more Off-road Adventure Track (Polaris Experience Zone) at Malad (West) in Mumbai. This is the 3rd Polaris Experience Zone in Mumbai, 6th in Maharashtra and 54th in the country.
Speaking on the occasion, Mr. Pankaj Dubey, Managing Director, Polaris India Pvt. Ltd., said, "The inauguration of our new PEZ, Tao Experiences is another important milestone in our efforts to create a flourishing off-roading culture in India. Polaris Experience Zones are pivotal pit stops in our journey of promoting adventure sports in the country. Polaris has lined up its heart thumping series of power sport vehicles at Tao Experiences where hard-core adventure enthusiasts can experience the thrill of off-roading. So, if you are looking to tap into your adventurous streak, just check out the amazing Polaris Off-Road vehicles at this new facility."
Spread over an area of 5 acres, Tao Experiences is a one-stop destination for all enthusiasts looking for adventure and thrill. It not only offers the thrill and exhilaration of Polaris vehicles on a dirt track with slush pit, humps, sand and stones, but it also serves as an ideal place for families looking to spend quality time with adventure.
Tao Experiences is equipped with artificially created undulated tracks with slush pits providing riders with a challenging and exciting trail for fun.  Skilled trainers present on the track not only ensure complete safety of the riders but also help them in honing their ATV riding skills.
Other exciting activities at Tao Experiences include Paintball, Zorbing, Low Rope Course, Bungee Run, Wall Climbing, Archery, etc.
Polaris India has a robust network of 14 dealerships, 2 International dealerships (Kazakhstan & Nepal), 8 PRS (Polaris Riderz Stop) and 54 Polaris Experience Zones to take the off-roading vulture to greater heights. Dealerships are located at Ahmedabad, Bangalore, Chennai, Cochin, Dehradun, Guwahati, Hyderabad, Indore, Jaipur, Ludhiana, Mumbai, Dimapur- Nagaland, Srinagar, and Gurgaon.
Polaris Off-Road vehicles are specially engineered to travel on rough and uneven roads. They are widely used in sectors such as defense, paramilitary forces, agriculture, entertainment and tourism, among others. These vehicles are capable of providing a smooth drive even on rocky, slushy, desert and muddy surfaces.
Information about line of Polaris products, apparel and vehicle accessories are available at www.polarisind.in
Polaris Experience Zone Mumbai Malad
Tao Experiences (Malad-Mumbai): Opposite Bageecha Swagath Restaurant, Adjacent to Green Village Resort, Malwani Village, Malad West, Mumbai 400 095
PHOTO GALLERY