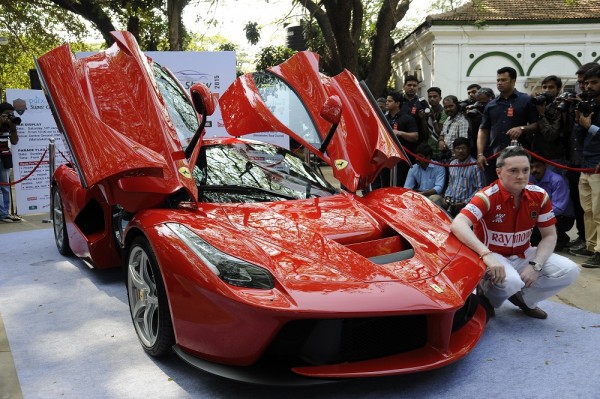 Catch a glimpse of the most stunning Super Cars at the 7th edition of Parx Super Car Show 2015
LaFerrari to be the show stopper in this annual extravaganza
LaFerrari to be showcased for the first time in the country
A fabulous array of Super Cars to be on display for general public on 10th January'14 at The Mahalakshmi Race Course
Free Entry for all automobile enthusiasts in the city
Super Cars to traverse the extensive route in Mumbai  on 11th January from 11.00 am onwards
Display of Super Bikes for the general public to be an added attraction
The much awaited calendar event of the year – Parx Super Car Show 2015, India's only Super Car show is here and this time getting much bigger. This one of its kind unique event presents an opportunity for Super Car aficionados in the country to catch a glimpse of some of the most coveted cars in the world and a few super bikes at RWITC Race Course, Turf Club, Mahalaxmi, Mumbai, on January 10 and 11, 2015. As a part of the yearly tradition, members of Super Car Club of India will parade on Mumbai's key arteries on 11th January'15, in their exotic and rear mean machines offering a visual treat to car enthusiasts.
Adding to the glamour quotient of the fleet of renowned Super Cars on display, LaFerrari – a limited edition, top of the line offering from Ferrari is all set to be the show stopper for the first time in India. This most ambitious car launched by Ferrari is the first ever production car to be equipped with the F1-derived hybrid solution – the HY-KERS system – which combines  the power of an electric motor producing over 150 CV with the most powerful incarnation yet of Ferrari's classic V12. The 6262CC V12 produces 800 CV and including the electric motor produces a total of over 960 CV that clocks a maximum speed of 350 KM/Hour.
The 7th edition of the Parx Super Car Show 2015, will host an array of well-known super and luxury car brands, such as Audi, Mercedes, Lamborghini, Aston Martin, Porsche, Ferrari, Bentley, BMW, Rolls Royce and many others at RWITC Race Course, Turf Club, Mahalaxmi on 10th January from 10 AM to 6 PM. People of Mumbai can also catch a glimpse of the convoy of super cars, as they will zoom past the streets of Mumbai on 11th January from 11.00 AM to 1:30 PM.
The Parx Super Car Show Parade route on 11th January (Sunday) would be from Turf Club – Haji Ali – Peddar Road – Babulnath – Chowpatty –  Marine Drive – Nariman Point – Marine Drive – Peddar Road – Haji Ali – Worli Sea Face – Sea Link – U Turn Under the Bandra East Flyover – Sea Link – Worli Sea Face – Haji Ali – Turf Club.
Speaking during the announcement launch, Mr. Gautam Singhania, Chairman and Managing Director, Raymond Limited and Founding Chairman of Super Car Club, said, "It gives me immense pleasure to host the 7th edition of Parx Super Car Show as it offers  car enthusiasts an opportunity to witness some of the best Super cars in the country. This year we are delighted to showcase La Ferrari for the first time in India, and we are confident that it will be a visual treat for all car fanatics. It's encouraging to see that with each passing year, the popularity of the show is soaring by leaps and bounds, and we are confident that this annual fiesta will only become bigger and better in years to come.
The Parx Super Car Show, which began its journey in the year April 2009, has witnessed growth, not only in terms of supercars on display, but visitors participating in this grand motoring celebration.  The first and the only Club for super car owners in India – Super Car Club (SCC) www.facebook.com/SuperCarClubOfficial is the brainchild of two diverse individuals united in this common passion. The Super Car Club, a members' only Club has Mr. Gautam Singhania, CMD of Raymond Limited as its Patron & Founder and Mr. Hormazd Sorabjee, as it's Co-Founder.
This annual event allows owners a chance to get-together and also to truly experience their cars' performance. Since the inception the members' base has almost quadrupled. Its members today span the country and the Club has Chapters in New Delhi, Hyderabad, Bangalore and Chennai, in addition to its base, Mumbai. Today, SCC has to its credit over six large super car shows, numerous drives to exotic locations and even larger number of super car displays.
 About Parx:
Parx is a premium casual lifestyle brand, which is positioned to cater to the needs of consumers who are looking for dressing up for life across occasions and events. Parx reflects the persona of the energetic 22-30 year old who is aggressive, outgoing, dynamic and lives his life to the fullest. Parx reflects the pulse of the new generation which looks at clothing as a reflection of their attitude and vibrancy.
Right from its inception in 1999, Parx has been the preferred choice of brand in the casual wear segment with continuous innovations and international trends and styling. It is positioned to meet the consumer needs for "beyond work" requirements and this has been addressed through categories like Sport and Club. The brand goes to great lengths to ensure quality. The manufacturing process uses the best of machinery, techniques, tracking systems and processes. These are automated to a large extent.