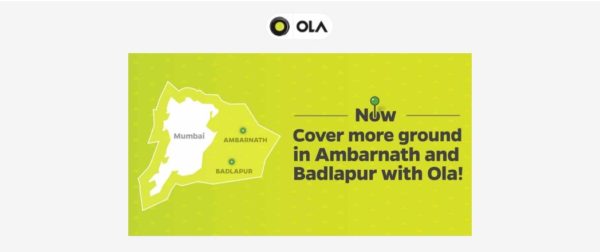 In endeavor to make traveling easier Ola cabs has announced the extension of services to newer areas around Mumbai, such as Ambarnath and Badlapur.
So the next time you're traveling to, from or through any of the areas mentioned above, you can travel in the comfort of AC cabs, at affordable fares, with Ola. Simply open the Ola app, choose the ride category of your choice from Share, Micro, Mini or Prime and hit 'BOOK NOW'.
Ola is also giving a free ride worth upto Rs.100 to all new Ola fans as a welcome gift. Use code RIDE100 while making your booking.
Ola cabs has been expanding their services to new places rapidly along with new options in the fleet which now includes Share, Micro, Mini, Prime Sedan, Prime Play, Prime SUV, LUX, E-Rick, Kaali Peeli, and Shuttle.
Recently Ola and Mahindra have partnered with the Government of India in a first-of-its-kind programme to build an electric mass mobility ecosystem in Nagpur which will bring about a transformational change in the automotive and transportation landscape in the country.
Ola cabs also introduced Ola Bike in Kota and Ahmedabad.
Ola is now present in 110 cities can book from over 6,00,000 vehicles across cabs, auto-rickshaws and taxis.