How many of you have bought an SUV but never ventured off the road with it? The risk of damage and potential expenses are forcing many SUV owners not to test the true potential of their vehicles. But the truth is, most of the SUVs are extremely capable, even without any modifications. Learning some basics of offroading and joining a good group of organizers who conduct offroad events can help leverage more from the SUV.
Good thing is that there're many such groups now active in every city. Terratigers in Chennai is one such group that conducts offroad events for both amateurs and professionals. I had the opportunity of joining them in one of their excursions recently.
And if you though off-roading is an expensive sport meant for overpriced SUVs, you are wrong again. The arrival of Mahindra Thar has changed the scene altogether. Now you can own a proper 4×4 SUV for under 10 lakhs and drive it straight into the woods or mud or on the rocks, without any modifications. The event I attended had many such Thar owners who had come for their first offroad experience.
On a calm Saturday morning we assembled at a farm some 80kms from Chennai and went into the Palar riverbed looking for obstacles to tackle. The first one was a rock climbing session, which can be seen in the short video below.

The second obstacle was mud bashing, a very mild one at that. Watch the video below to witness the experience

The next challenge was to negotiate a narrow tank bund, where one had to climb and negotiate a turn simultaneously. This is tricky because most of us are trained to one thing at a time-either accelerate or turn. But in offroad right combination of maneuverability plus pace is critical The last bit was sand bashing, climbing uphill on a sand dune. The participants enjoyed their experience and felt more confident about their Suvs and their own driving skills.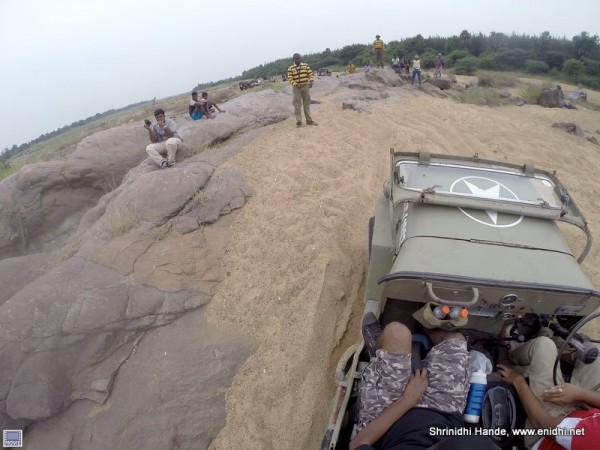 The offroad scene in India is slowly improving. With minimal effort you can find an active group or organizer with whom you can indulge in offroad adventure. Also manufacturers are actively conducting events for their customers, to help them understand the potential of their own cars.