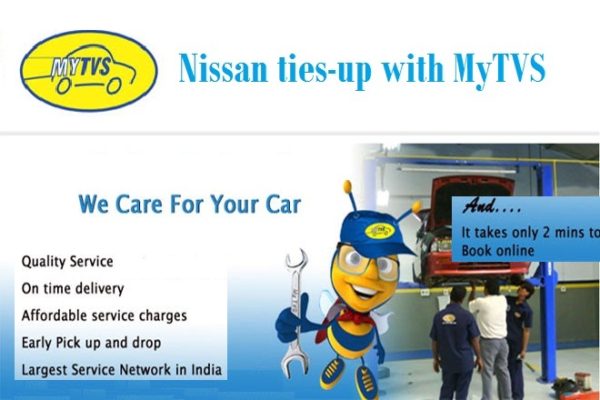 Nissan has been consistently making efforts to increase its touch points in India for the benefit of its existing and potential customers. Its dealership strength has been growing steadily and Nissan is committed to opening 300 dealers throughout India by March 2017.
Going a step further Nissan has now entered into a strategic partnership with MyTVS, a brand owned by TVS Automobile Solutions Private Limited (TVS ASPL), one of India's largest car service networks. Through this partnership with MyTVS, Nissan will soon have 8 Nissan Authorised Service Points (NASP) in Tamil Nadu, in addition to its own dealer network of 23 outlets. The Nissan Authorised Service Points (NASP) will offer increased customer convenience in terms of service and repair. The partnership also aims to cover other key locations throughout India.
The services offered at NASP will include
Genuine parts availability,
Consumable service parts replacement (such as oil filters and brake pads),
Trained staff providing expert service.
Nissan and MyTVS are moving forward with plans for further expansion of NASPs to cover other locations throughout India. With Datsun's Redi-Go creating waves in the entry level hatch segment, the option of having greater access to car servicing facilities adds to the appeal of buying a Datsun vehicle for prospective customers.
 "Increased options and more convenient access to car servicing makes our customers happier," said Guillaume Sicard, President of Nissan India Operations. "We are always striving to enhance the pleasure of owning a Nissan or Datsun car in India. Our partnership with MyTVS shows Nissan's unwavering commitment to improving convenience and satisfaction for our customers," he added.
Srinivas Raghavan, Executive Director, MyTVS said, "We're delighted to be associated with global brands like Nissan and Datsun. This is an important tie-up for us which helps expand our presence and enjoy various synergies that are generated between our companies that add value for our customers."
As the Nissan and Datsun brands' product portfolios develop, establishing an extensive, quality-focused sales and service network is central to their long-term growth in India. Nissan aims to double its reach by 2017 with a total presence of 300 dealers throughout India, aiming to grow its network to cover 95% of the population.