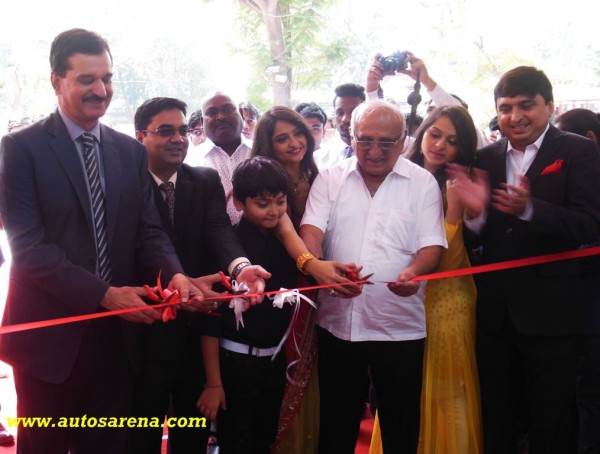 Nissan Group of India is steadily gaining foothold in India by opening new dealerships at strategic locations, the latest being Shakti Nissan at Chembur and Royce Nissan at Kandivali in Mumbai.
With the opening of these two retail outlets; Nissan will now have 11 touch points in Mumbai and a total of 34 in Maharashtra, thereby providing easy convenience and accessibility to customers
The showrooms were inaugurated by the Managing Director of Nissan India, Mr. Arun Malhotra in the presence of other top ranking officials from Nissan India & Datsun.
Nissan currently has a healthy network of 215 touch points across 165 cities in India. The company is committed to operating 300 sales and service outlets by end of March 2017 which will go a long way in fuelling Nissan's long-term growth in India.
In addition to increasing the company's footprint in the country, Nissan has also been focussing on improving the customer experience while visiting dealers. The brand was awarded third rank in the recent 2015 J.D. Power Asia Pacific – India Sales Satisfaction Index study.
Speaking about the dealer openings, Arun Malhotra, managing director, Nissan Motor India Pvt. Ltd. said, "I am delighted to inaugurate these two new dealerships in Mumbai. Adding them to the Nissan network in Mumbai marks Nissan's three dealership openings in Mumbai in the last six months. We continue to expand our reach and provide our customers with best-in-class products and services together with our dealer partners.
"Nissan's strategy for continued and significant growth in India is underpinned by our commitment to providing customers with a superior ownership experience. This is backed by our continuous expansion of dealership outlets nationwide towards our target of setting up 300 outlets across the country by the end of March 2017," added Malhotra.
Shakti Nissan in Chembur and Royce Nissan in Kandivali will cater to the expanding customer base in Mumbai, Navi-Mumbai and Thane region by selling Nissan and Datsun vehicles.
During the inauguration ceremony, Mr. Arun Bhanushali, dealer principal, Shakti Nissan said, "We at Shakti Nissan are proud to be associated with such a successful global brand. As an authorised dealer of Nissan in Mumbai, Shakti Nissan will provide excellent sales and after-sales service to existing and prospective customers in the region. We will enhance our customer service and provide an outstanding ownership experience for our customers."
Mr. Hemant Shah, dealer principal, Royce Nissan said, "We welcome the opportunity to work with Nissan, a brand which is globally recognised for its engineering and innovation. We at Royce Nissan will work towards tapping current and potential customers for the brand and provide best-in-class after-sales service."
New Dealership Address
SHAKTI  NISSAN (Chembur)
Showroom: Unit No.2, Safal Pride, Opposite Saras Baug, Sion-Trombay Road, Punjab wadi, Deonar, Mumbai 400 088
Workshop: Govandi Station Road, near Lakme compound, Deonar, Mumbai 400088
ROYCE  NISSAN (Kandivali)
Showroom  – SH-2 Ground Floor, Blue Empress Building, Borivali West, Borsapada Road,  Mumbai – 400092
Workshop – Ground Floor, Bhanji Udyog Nagar, Bhanji Udhaji Road, Penkar Pada, Mira- Bhayandar , Thane – 401107