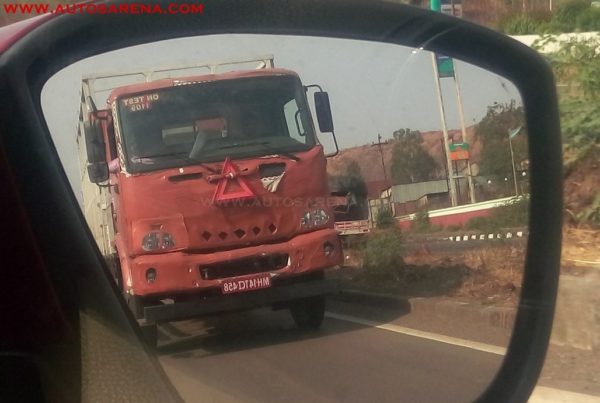 The Pune –Bangalore highway is where one has to spot a vehicle being tested. Be it an upcoming car, SUV, LCV or truck.
This time we spotted a Mystery Truck caught testing which was heavily camouflaged. The truck had a new cabin design and test plates with 1109 ON test stickers on the front wind shield.
We managed to click quite a few photos and can conclude the following. The truck is most likely the new generation LCV range from Tata which could replace the existing cabin design and will be positioned below the Ultra series.
Tata Motors had launched the Ultra series which are quite superior, but since they were priced on the higher side, they did not meet sales success.
The LCV range includes the 407, 709, 810, 909 and 1109.
The 1109 range has 4 variants – LPT 1109 EX, LPT 1109 HEx2, LPT 1109 HEx2 CR and LPT 1109 HEx2 Sleeper Cab.
The LPT 1109 HEx2 Sleeper Cab. is the only ICV in the country with a Sleeper Cabin.
Depending on the variant the 1109 comes in 3 wheelbases – 3600mm, 4200mm and 4830mm. The ICV is powered by TATA 497 TCIC which develops a max power of 92 kW (125 ps) @ 2400 r/min and max torque of 400 Nm @ 1300 -1600 r/min.
The main applications of the ICV are cement transport, bricks and voluminous goods.