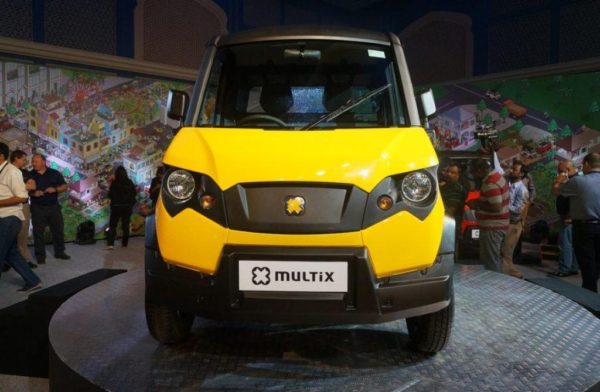 Continuing with the growth momentum, and commitment towards catering to the needs of the independent businessmen; Multix – India's First Personal Utility Vehicle by Eicher Polaris Private Ltd. (a 50:50 JV between Eicher Motors Ltd. and Polaris Industries Inc. of USA) is all set to start its journey to Nepal. Eicher Polaris Private Limited flagged-off its first lot of Multix from the company's plant in Kukas industrial area in Jaipur today.
As a gradual next step towards expansion and growth in the sub-continent, Eicher Polaris Private Ltd. has appointed M/S. Baba Automata, Lalitpur 8, Kathmandu, Nepal as its first distributor in Nepal. The export- ready, Multix is a purpose-built and custom-designed automotive solution that is creating a new category in the automotive segment.
Commenting on EPPL's entry into Nepal, Mr. Pankaj Dubey, Chief Executive Officer & Director, Eicher Polaris Private Ltd, says, "This development is a natural step, in tune with our growth strategy. Multix was launched with a purpose to serve as an ideal automotive solution for an existing need-gap in the market; catering to the independent businessman who found current solutions sub-optimal. Consumer response to Multix in India has been encouraging and Nepal made logical sense to accomplish success in the region. Multix is a ground-up innovation designed and engineered to propel independent businesses many folds. We are confident that it will act as an enabler to independent businessmen in Nepal."
Ushering the export-ready Multix in to Nepal, this 3-in-1 multi utility vehicle will be available at M/S. Baba Automotive, Kathmandu, Nepal during the first phase.
Extreme 3-in-1 Adaptability
With versatility at its heart, Multix offers the unique power of extreme adaptability to consumers. It is designed and engineered to suit a family, business and power generation needs of the consumer. Multix has a generous cabin space that can comfortably seat a family of five along with luggage. Multix can be converted to create large storage space of 1918 liters. In just 3-minutes, the vehicle can be configured for seating a family to larger boot space in order to cater to the business needs of the consumer.
Superior All-Road Capabilities
Built through extensive consumer study, Multix is a differentiated vehicle. It is equipped with first-of-its-kind Pro Ride™ – independent suspension system, which coupled with its best in class ground clearance of 225mm, delivers unmatched ride experience on all kinds of roads. Powered by a diesel engine, Multix gives a mileage of 28.45 kmpl.  It has a unique tubular frame structure and Roll-Over Protection System (ROPS) that provides structural stability. The vehicle delivers superior energy efficiency & durability through its Flexituff™ body. It has undergone over 18,00,000 km equivalent of rigorous testing for off-road reliability, safety & durability and has been tested on one of the world's toughest testing tracks in abroad as well as in India on specially built test tracks.
X-PORT™ – Power Take-off Function
With X-PORT ™ – most unique and exciting feature power-take-off feature of Multix, which can generate power up to 3 KW,  and unlock the potentials of independent businessmen, as it can be used for lighting homes and powering professional equipment such as drilling machines, DJ systems, water pumps and more.
For more information, please visit. http://www.multix.in/