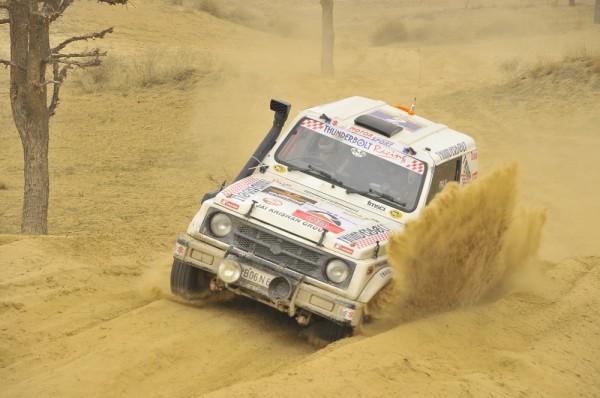 First time in the history of Desert Storm, a 150 kms long night-stage to be held in first-leg
Defending champion and Dakar rally winner, CS Santosh will be aiming for the title
130+ motorsport enthusiasts to compete in XTreme, NDure, Xplore and Motto Quad categories
Maruti Suzuki Desert Storm is back in its 13th edition to enthral extreme motorsport rallyists in India.  The latest edition of the Maruti Suzuki Desert Storm will be flagged off from New Delhi on February 23, 2015 after completing the mandatory pre-event formalities and safety checks. More than 130 participants have registered for the marathon event to be held in various categories. The six-day extreme event will cover over 2300 kms starting from New Delhi traversing through Sardarshahar, Bikaner, Jaisalmer to conclude at Jaipur on March 1, 2015.
The rally would be held in three long-standing categories — XTreme, NDure XPlore and Moto Quad and will steer through undulating terrains comprising of shifting sand dunes, dried up lake beds and routes that can be big challenge for best navigators in the world. Driving enthusiasts look forward to Desert storm which is the ultimate endurance test of man and machine to the limit.
This year's marathon event is touted be the toughest as compared to previous years. First time in India and in the history of Desert Storm a 150km long night stage is being organized. After ceremonial flag off in New Delhi, the participants will move to Sardarshahar where the 150 kms long first leg begins at midnight. Often called Mini Dakar – the competition will comprise of competitive five-legs criss-crossing the Thar desert.  Motor driving enthusiasts will take up the challenge to tame of the most wild and gruelling driving landscapes in the country.
Defending champion and Dakar rally winner, CS Santosh will be aiming for the title this year as well. He will be representing Team Suzuki on the Suzuki bike. Also spicing up the competition will be the women rallyists – also known as – 'Coup de Damas'. This year close to 20 women participants will be seen contesting in the Desert Storm rally.
Announcing the 13th edition of Desert Storm, Mr. Mahohar Bhat, Vice President, Marketing, Maruti Suzuki India said, "Maruti Suzuki has been at the forefront of extreme motorsports in India. An extreme endurance event of marathon proportions, Desert Storm is one of India's most gruelling rallies. Motorsport rallies bring out the best in man and machine and we are looking forward to exceedingly exciting times ahead."
Maruti Suzuki & Motorsports: Maruti Suzuki has been actively promoting motorsports in the country for over 15 years now. To popularize action sport, the Maruti Suzuki motorsport calendar is packed with exciting motoring events. Be it for a motorsport enthusiast, an amateur or a professional, there are events that offer the thrill and joy of motorsport to one and all. The annual calendar of events includes Autocross, Treasure Hunt and professional rallies including Maruti Suzuki Raid-De-Himalaya, Maruti Suzuki Desert Storm and Maruti Suzuki Dakshin Dare. These events provide rallying thrills as well as promote safe driving habits.