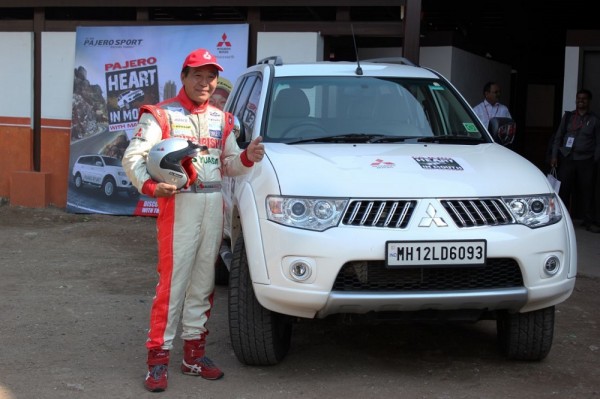 Mitsubishi's world rally champion takes Puneites on breathtaking ride aboard Pajero Sport
Mitsubishi world rally champion Hiroshi Masuoka enthralled Puneites for three days with daredevil driving of  his favourite Pajero Sport. For those who had the opportunity to be in the robust SUV with Masuoka behind its steering, it was the experience of a lifetime.
No wonder, the 'Pajero Heart-in-Mouth with Masuoka' event organised here by Hindustan Motor Finance Corporation Limited (HMFCL) and Mitsubishi Motors Corporation, Japan, from February 13 to 15 turned out to be a huge success in Maharashtra's automobile hub. Over 120 Pajero customers, 50 dealers and their staff, Pajero fans and the local media participated in the event. (HMFCL has been manufacturing, marketing and selling Mitsubishi's premium brands like Pajero, Lancer, Cedia, Outlander, Montero etc in India under a technical agreement signed by the two companies in 1998).
The treacherous route around a hillock at Pethkar Motoring Grounds here is a formidable terrain to traverse even on foot. But riding  an all new Pajero Sport, 54-year-old Masuoka drove almost effortlessly, leaving many in awe of the driver's calibre. "I am not doing anything special. I am just driving the car as per the conditions," said Masuoka when one took the ride in the back-seat with seat belts on and a helmet to boot.
For the entire ride through sharp downhill slopes as inclined as 70 degrees with potholes, boulders and watery patches on the path, Masuoka had Pajero Sport on third gear and used no brakes. "The machine is designed to take all kinds of terrain," he explained.
Masuoka should know as it was driving a Pajero Sport that he created a flutter in the world of racing with his back-to-back successes in the Dakar Rally in 2002 and 2003. The inter-continental rally is considered the world's toughest car driving contest. He was also victorious in the 2003 Baja Italy and the 2004 UAE Desert Challenge. Very recently, Mitsubishi Motors Corporation (MMC) concluded the Pikes Peak Challenge in September 2014 with him. Mr. Masuoka is one of finest rally drivers in the event's history, recording consecutive wins over the years. He has always driven the Pajero in these tough contests.
HMFCL utilized Masuoka's visit to India to also promote safe driving. The company launched a booklet on safe driving on the occasion.
HMFCL also announced the formal launch of Pajero Sport for the Maharashtra region at a meeting of its dealers at Pune on February 14. The company has sold 211 Pajero Sports in Maharashtra. Pune sales account for 79 units.