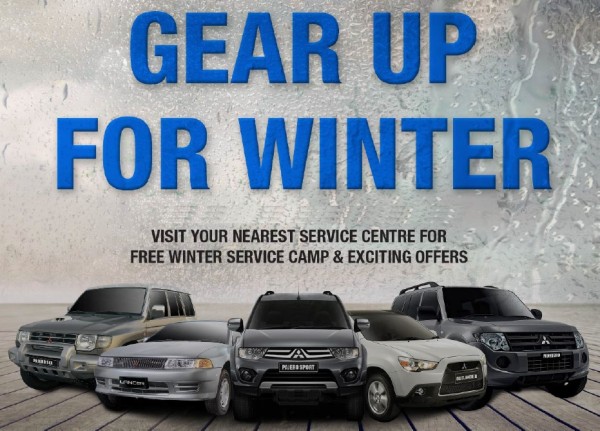 Hindustan Motor Financial Corporation Limited (HMFCL) – the renowned automobile manufacturers & marketers of Mitsubishi range of passenger vehicles has launched an innovative nationwide 'Winter service campaign' along with a 'Service Caravan' for its esteemed clients in India. Through this campaign, Mitsubishi aims at reaching out to all its customers; right from the Lancer owners to the owners of their current hot selling Pajero Sport.
This 'Winter Service campaign' is aimed at retaining the existing customers and reinforcing their confidence in all Mitsubishi products like Lancer, Cedia, Montero, Outlander, Pajero SFX, Pajero Sport models. It is worthy to note that Japanese engineers from the parent company- Mitsubishi Motors Corporation – (MMC-Japan) have been specially flown in to participate in this activity..
During the Service Caravan activity MMC engineers will inspect the customer's vehicle on their own, guide technicians with their expertise in all Mitsubishi models and recommend the suggested actions. The highlight of the caravan is that the Mitsubishi engineers will be available on the spot to interact with customers. The customers can expect to get valuable tips on preventive maintenance and improving the performance of their Mitsubishi cars.
In the first phase of the Service Caravan which was held at Chennai & Hyderabad dealerships between 23rd & 27th Nov 2015, HMFC offered several discounts, value added services and a 30 point inspection of the cars. The engineers also suggested necessary actions to be taken depending on the current condition of the vehicles.
Mitsubishi's automotive lineage dates back to 1917 when its Model A was introduced in Japan. Over the years Mitsubishi developed Japan's first diesel engine, its first 4WD passenger car prototype, its first diesel powered truck, the Fuso series large sized buses etc. The MMC or Mitsubishi Motor Company was later formed in 1970. The company won several awards like "Car of the Year" in 1977 in South Africa,  "USA's Pick-up of the Year" in 1979 and later marked its dominance in the 'World Rally Championships'. Vehicles from the Mitsubishi stable like Shogun, Galant, Lancer and L200 were honoured worldwide in the 1980s.
Mitsubishi entered India in the year 1998 with a plant in Chennai from where popular models like Lancer, Montero, Outlander and the Pajero Sport AT have rolled out. The Chennai plant was a technical collaboration between MMC-Japan and the Hindustan Motors-India. However, since April 2014, Hindustan Motor Finance Corporation Ltd (HMFCL) operates as an independent company which now manufactures & markets the "Mitsubishi" brand products in India.
For more details, log on to www.mitsubishi-motors.co.in or call on toll-free number 1800-102-2955.