Michelin, announced the availability of MICHELIN LTX Force range of SUV tyres in India.
The All-terrain MICHELIN LTX Force tyres offer unmatched durability, superior grip on-road and higher traction off-road.
The introduction of this new range in India helps the company further strengthen its product portfolio that offers more driving pleasure for the discerning Indian owners of SUVs.
The SUV segment is the fastest growing in the Indian market and also the market for 4×4 SUVs have seen a surge with many customers looking for adventure vehicles to enjoy the country side.
MICHELIN LTX Force uses Compact Tread Technology which takes advantage of two seemingly contradictory performances: excellent durability plus grip. The tread pattern inspired by endurance races is designed to provide a greater contact area thanks to higher tread blocks which favour both durability and traction.
The LTX Force tyres lasts up to 35%* more than its main competitors in this segment. It also ensures greater control in the event of aquaplaning, without compromising on its longevity.
The MICHELIN LTX Force range tyres are available nationally at Michelin premium dealerships – the Michelin Priority Partners, the TYREPLUS network and Michelin retailers.
MICHELIN LTX Force SUV tyres Specifications in India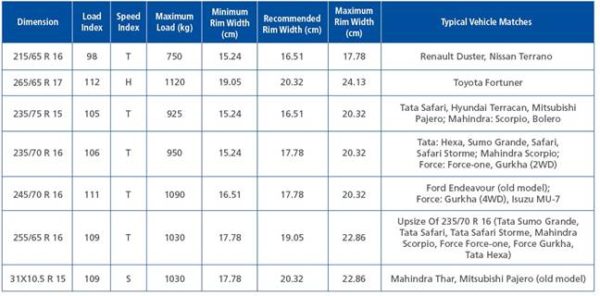 Mohan Kumar, Commercial Director, Michelin India said,
"The SUV market is one of the fastest growing segments in India. Industry estimates indicate one in four vehicles sold last year was an SUV and as more Indians opt for SUV's, this segment is estimated to continue growing, both in cities and upcountry towns. Our LTX Force is an all-rounder and is ideal for SUV owners who regularly use their vehicle on both paved and unpaved road. Innovation is at the heart of our product development and this tyre is a perfect example of it, where we showcase a seamless transformation from track to road. By using this range, the SUV users in India will benefit from the international technology that has enjoyed numerous podium finishes at grueling all terrain competitions such as Rally WRC."