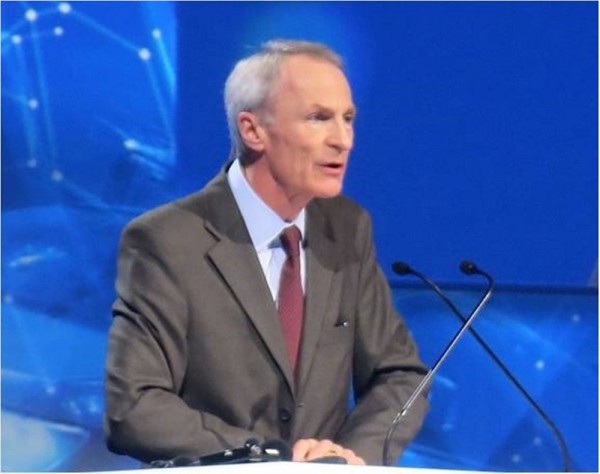 While the more recognizable Michelin man roamed among the crowd hamming it up with some of the 6,000 in attendance, the top Michelin man — CEO Jean-Dominique Senard — talked about his company's commitment to innovation and sustainability during a news conference held at Challenge Bibendum.
The event, the 12th time that the tire maker has gathered some of the world's greatest thinkers, concludes Friday afternoon at Heritage Park in Chengdu, China's fourth-largest city. The overall goal of Challenge Bibendum is to contribute to the progress of sustainable mobility of people and goods, through a series of seminars, discussions, exhibits and contests involving people from across the globe, Michelin said.
"Promoting sustainable mobility at the global level is the slightly gargantuan goal of the Michelin Challenge Bibendum," Mr. Senard said. "But it's more than a dream or a utopia. Today, and every day, technological innovation is helping to improve the environmental, safety and cost performance of all means of transportation, whether individual or collective.
"Quality and innovation are in the DNA of Michelin."
Mr. Senard told the assembled media representatives that his company wants to be a leader in sustainable mobility, as well as take its place as one of the world's most responsible and innovative businesses. He pinpointed two of the six company objectives for 2020: product performance leadership and organizing initiatives to improve road safety.
"In a world with finite resources, the basic idea behind the circular economy is to use those resources more wisely," Mr. Senard said. "In other words, to do more and better with less. This covers all resources used, from water to raw materials to energy."
Mr. Senard cited Michelin's four-R strategy of reduce, reuse, recycle and renew. Some of that strategy is showcased in the company's Green Paper, a 140-page publication released during the summit that reviews some of the sustainable mobility challenges and the actions that must be undertaken in order to turn the words into tangible actions.
"This event is now a permanent platform," Mr. Senard said. "A think and action tank dedicated to the mobility of the future, whose aim is to become a global benchmark in this area."
It is the third time China has hosted the event, and marks the first for Chengdu, chosen because of burgeoning population — experts say the city is growing by 1 million people per year — as well as its diverse industry, it is one of China's leaders in the automotive and computer sectors.