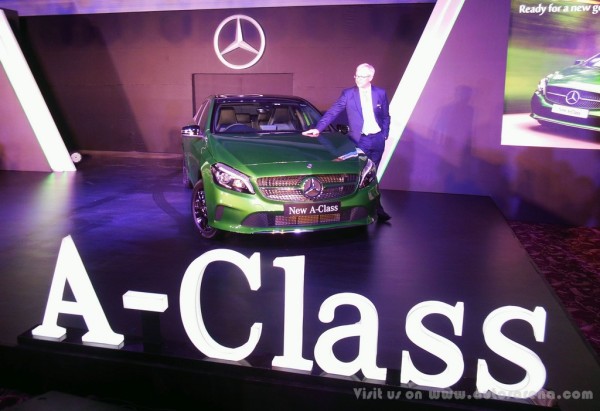 Mercedes-Benz, the multinational subsidiary of Diamler AG of Germany inched closer to regain its Numero Uno position in the Indian Luxury car segment by launching a dynamic and sporty new A-Class on 8th December, 2015 in Mumbai.
With the launch of this stunning and feature packed car, Mercedes-Benz also fulfilled its commitment of launching 15 new cars in India in 2015. With new models and rising sales figures, Mercedes also plans to strengthen its dealer network in the country. The company opened 14 new dealerships during the year, while the last one for 2015 is expected to open in mid-December. Currently, it has a total of 80 outlets in 39 cities making it the brand with the densest network presence in the luxury car segment in India.
The new A-Class sets a new benchmark in the compact luxury segment with enhanced comfort, sportiness, safety and efficiency levels. The car was unveiled by Mr.Roland Folger, Managing Director & CEO of Mercedes-Benz India. While speaking on the occasion he said, "The A-Class introduced a lot of new customers to Mercedes and paved the way for new generation cars in the dynamic Indian car market.  As the most progressive model in the compact luxury segment, the A Class has been instrumental in transforming Mercedes-Benz into a more youthful brand. We could not have concluded the product offensive of 2015 with a better product than the A-Class."
Mr.Folger further added, "With the launch of the new A-Class, we reiterate our promise of bringing the most fascinating cars from our global portfolio for our valued customers in India. The product offensive of Mercedes-Benz in 2015 with the '15 in 15' approach has been highly successful and is bearing fruit, as is visible with our sustained growth momentum. We are confident that the addition of the new A-Class will further strengthen our New Generation Cars portfolio and will continue our conquest of new customer base."
The A-Class & B-Class helped Mercedes-Benz to evolve as a more youthful and sporty brand, thereby boosting up sales volumes. The A-Class competes with the Volvo V-40 and BMW 1 series and now with the updated model it gains a clear edge over the other two.
 Some key features of the dynamic and sporty new A-Class:
VARIANTS: A-Class has been launched in both Petrol (A 180 Sport) and Diesel (A 200 Sport) variants to suit customer requirements.
Exterior Design: The young and progressive design of the A-Class is now further emphasised with a sporty-dynamic orientation. The A-Class gets new LED high performance headlamps while the rear gets new lighting design emphasising that the vehicle belongs to the Mercedes-Benz family. The car also comes equipped with a Panoramic Sliding Sunroof with varied opening positions and auto tilt function to suit current vehicle speed.
Interior Design: Along with impeccably detailed plush interiors, the new A-Class is also equipped with leather wrapped multifunction steering wheel featuring a 3-spoke design with 12 function buttons and a shift lever in leather. The instrument cluster is now equipped with a multifunction colour display for visually enhanced and clear presentation.
Performance: The performance of the new A-Class exhilarates with a top speed of 210 kmph for the Diesel (A 200) and a sprint time of 0 to 100 kmph of 8.6 seconds for the Petrol (A 180).
Dynamic Select: It offers a choice of 4 different driving modes as desired – Comfort, Sport, Eco and Individual for adjustment of parameters such as Engine, Transmission, Suspension and Steering through a DYNAMIC SELECT switch in the upper control panel.
7-Speed Dual Clutch Automatic Transmission: The 7G-DCT dual clutch transmission combines the comfort of a 7-speed AT with the driving dynamics of a manual transmission leading to faster and smoother gear change without any interruptions in power and ensures improved acceleration.
Safety & Assistance Features: Class leading safety features like 6 Airbags, ESP, ABS, Acceleration Skid Control, Brake Assist System, Attention Assist, Start Assist, Adaptive Brake Lights Flashing, etc makes the A-Class one of the safest cars on Indian roads. Assistance features like 'Intelligent Drive' concept significantly enhance safety and comfort.
Mercedes-Benz Apps: Mercedes Benz apps takes connectivity to a whole new level through internet based apps like Tunein Radio, Mercedes Benz Radio, RSS newsfeeds etc.  In order to secure a safer drive, certain app features are disabled while the car is in motion.
5 Colour Options: The new A-Class will be available in Cirrus White, Polar Silver, Jupiter Red, Cosmos Black and an exclusive 'Elbaite Green'.
Prices: The Petrol A 180 is priced at Rs.24.95 Lacs, ex-showroom Mumbai while the Diesel A 200 is priced at Rs.25.95 Lacs, ex-showroom Mumbai.
As per JD Power 2015 CSI Study, with a score of 842, Mercedes-Benz ranks highest among Luxury Brands in Customer Satisfaction with Dealer Service in India. Mercedes-Benz for the second consecutive year has also emerged as the 'most awarded luxury car brand' in India. The brand won a total of 34 prestigious awards conferred by various reputed media houses across India. Mercedes-Benz portfolio includes the A-Class, B-Class, C-Class, CLA-Class, CLS-Class, E-Class, GL-Class, GLA-Class, GLE-Class, S-Class, SLK, Maybach and AMG.
Image gallery