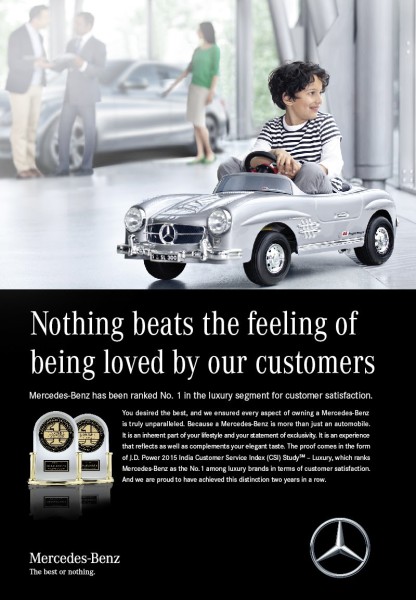 The year 2015 will be remembered as the year of the 'Three Pointed Star' in the chronicles of the automotive world. Not only did Mercedes-Benz win a host of prestigious awards worldwide across various categories, in India they won 34 awards and also rolled out 15 stunning new models.
Ever since the brand set up base in India in 1994, it has been the epitome of luxury on wheels. In 2015, Mercedes-Benz India announced its philosophy for the year as the year of 'Live the Best', which is based on its brand philosophy of 'Best or Nothing'. The growth strategy is built on 5 key initiatives with an aim to provide nothing but the 'BEST' to its customers, through BEST products, BEST operations, BEST touch points, BEST customer  experiences  and  BEST  corporate  citizenship.
Adding another feature to its cap, is the highest ranking in the J.D. Power 2015 India Customer Service Index Study (Luxury). The study determined that Mercedes-Benz garnered 842 points and was higher than the average of 836 points across all Luxury Brands. The study surveys Luxury vehicle owners who visit authorized service centres for maintenance and repair work. Mercedes-Benz India has taken the highest rank for the second year in a row.
The study measures overall satisfaction in five factors (listed  in order of importance): service  quality  (43%);  vehicle  pick-up  (17%);  service advisor  (14%);  service  facility (14%); and service initiation (11%). The study found that Mercedes-Benz has performed particularly well across all these five factors.
Mr.  Roland Folger,  Managing  Director &  CEO,  Mercedes-Benz  India  commented, "Mercedes-Benz  is  driven  by  the philosophy  of  providing  the  best  experience  to  our customers and the findings of the J.D. Power 2015 CSI Study is a positive affirmation of the  effort  that  all our  dealer partners  are putting  into maintaining the  highest  level  of excellence. We at Mercedes-Benz aim to provide mobility solutions for our customers, a smooth and hassle free service experience is intrinsic to this endeavour. It is indeed very encouraging for us at Mercedes-Benz and our dealer partners to have come out on top for the second year in a row. We are happy to be recognized for the commitment and dedication towards customer delight."
Mr. Folger further said, "At Mercedes-Benz we believe that customer centricity is a key factor in building a trusting relationship.  Customer satisfaction from service excellence will be the differentiator going forward in the intensely competitive segment of luxury vehicles.
Mercedes-Benz India registered a stellar 34% year-on-year growth by selling 10,079 units in the Jan–Sep 2015 period.  It is worthy to note that Mercedes-Benz has  emerged  as  the 'most  awarded  luxury  car  brand'  in  India for  the  second  consecutive  year.  The brand won a total of 34 prestigious automotive awards in India, the highest won by any luxury automotive brand in India.
Mercedes-Benz India also  inaugurated  new  dealerships  in Chennai, Jamshedpur, Ghaziabad, Mangalore, Raipur, Calicut along with a new city showroom in Bangalore, Chennai and service outlets in Trivandrum, Chennai and Calicut. Mercedes-Benz inaugurated its highly exclusive AMG Performance Centre, in Hyderabad and Pune. There are five such high-end AMG Performance Centre in India, currently. Presently Mercedes-Benz India has 81 outlets across 40 Indian cities including 3 standalone Mercedes Benz Certified outlets, making it the brand with the densest network presence in the luxury segment in India.