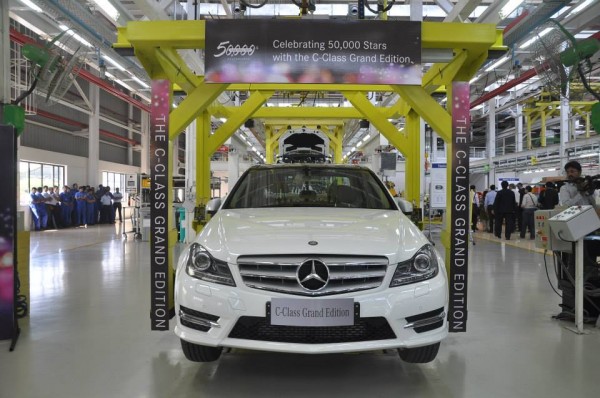 Mercedes-Benz India celebrated the roll-out of the 50,000th car from its manufacturing plant in Chakan, Pune and also launched the C-Class Grand Edition. The German luxury car make is the only premium car maker to have manufactured 50,000 cars on Indian soil.
Mercedes-Benz was the first company to set foot in the Indian auto market and started assembling cars at Tata Motor's Chakan facility which is now being used to assemble Jaguar & Land Rover models.
The company has also completed 20 years and has invested upto 850 crores in India so far. The production line currently assembles five models: C-Class, the E-Class, the S-Class, ML-Class and GL-Class. By end Q1 2014, Mercedes-Benz plans to double capacity to make room for the company's new future models which are most likely the A-Class, B-Class, CLA-Class and GLA-Class.
The C-Class Grand Edition is launched in both petrol & diesel models and 19,000 units have sold till date making it the bestselling model.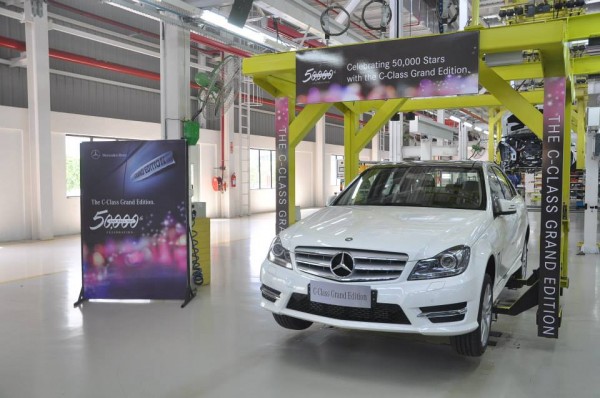 Established in 1994, Mercedes-Benz India has a world class production facility spread over 100 acres in Chakan, comprising an independent assembly facility for passenger cars and a technologically advanced Paint Shop. The German luxury car maker has a total of 61 outlets located in 34 Indian cities.
Mercedes-Benz India product portfolio comprises the locally produced S-Class, E-Class, C-Class, GL-Class and the M-Class. Completely Built Imported cars include the A-Class, CLS-Class, SLK-Class, SL-Class, E-Class Coupe, E-Class Cabriolet, the luxury tourer B-Class etc. The product portfolio also comprises offering the iconic off-roader G 63 AMG as well as a wide range of other AMG performance cars like the C63 AMG, E63 AMG, SLK 55 AMG.