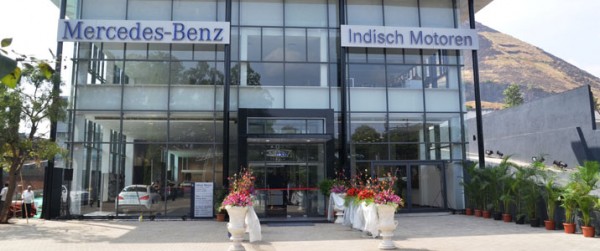 Reiterating the commitment to provide a complete luxury automotive experience to its customers in emerging markets, Mercedes-Benz India today inaugurated the state-of-the-art 3S facility of Indisch Motoren in Nashik. The facility is located at A-22, MIDC, Ambad, Nashik and was inaugurated by Eberhard Kern, Managing Director & CEO, Mercedes-Benz India and Om Moharir, Director, Indisch Motoren.
Speaking on the occasion, Eberhard Kern, Managing Director and CEO, Mercedes-Benz India said, "2014 has been an exciting year for us with world class products launches and an aggressive network expansion. We planned to inaugurate 14 new outlets this year and continue to have the densest network in the country, for any luxury car maker. Our network presence is one of our key strengths and reiterates our commitment to the customers. We are also deeply committed to extending the experience of modern luxury in every aspect of our customer engagement. Inauguration of Indisch Motoren underlines our commitment for our growing customer base in emerging markets like Nashik, which will be key growth drivers in the long-term for the brand. . With our partners Indisch Motoren, we are confident of providing an unparalleled luxury car ownership experience to our discerning customers.
Built over a period of 8 months with an investment of Rs. 10 crore, the outlet is spread over 54,000 sq. ft., Indisch Motoren has an 11 cars display in the showroom, exclusive zones for accessories, customer lounge, exclusive Mercedes-Café and a world-class infrastructure for service facility featuring 14 service bays, that will provide patrons a complete luxury experience. A qualified and experienced team of 40 committed personnel will provide an unmatched sales and service experience to the customers.
Om Moharir, Director, Indisch Motoren, commented, "We are extremely proud of our association with a prestigious global icon like Mercedes-Benz which has been redefining luxury motoring across continents. Indisch Motoren's new full-fledged dealership will enable us to fulfill the rising demand of luxury cars in Nashik. We are part of the Mercedes-Benz India's growth story and our investment to create a state-of-art facility underscores our bullishness and positive outlook for this market. Indisch Motoren is strategically located with ease of access for our growing customer base for whom the Three Pointed Star is the most preferred luxury automotive brand. We are excited about the immense opportunities in Nashik and are confident to provide an unparalleled vehicle ownership experience to our customers."
Nashik has exhibited an increased preference for innovation, sportiness, and safety features that luxury automotive brands offer. Markets like Nashik bring incremental volumes with the luxury car market here growing rapidly and will play an important role in sustaining growth momentum in the country. Indisch Motoren will provide easy accessibility to Mercedes-Benz patrons in Nashik since it's located at the Automobile hub and is strategically located close to the National Highway.
One of the largest dealership in western India, the facility underscores the Three Pointed Star's dominance in creating the most qualitative and densest network reach of any luxury car maker in India. Located in the automotive hub of Nashik, this is Mercedes-Benz's 13th outlet in Maharashtra and 66th in 36 cities in India, the highest for any luxury car maker. Mercedes-Benz India's 'Excellence in Networks' provides the Best experience that is constant across all MBIL dealerships in India. MBIL endeavors to create new avenues of customer fascination and delight while providing an exactly similar experience in terms of Touch, Smell, Sound, Sight and Smell through carefully chosen elements across all dealerships in India.