GLA 220 d 4MATIC 'Activity Edition' is Mercedes-Benz India's 6th SUV launch and the 9th product for 2016.
Mercedes-Benz India launched a new variant of the GLA-Class compact SUV, the GLA 220 d 4MATIC 'Activity Edition', thus introducing the much awaited 4MATIC four-wheel drivetrain in the GLA, for the first time in the Indian market.
The addition of the GLA 220 d 4MATIC Activity Edition further bolsters Mercedes-Benz's versatile and comprehensive SUV portfolio.
The GLA 220 d 4MATIC's market introduction will help Mercedes-Benz to further its SUV sales.
Since its debut, Mercedes-Benz has sold over 3500 units of GLA in India and the 4 wheel drive was missed by some enthusiasts. Well the GLA may not be a hard-core off-roader but definitely becomes a selling USP.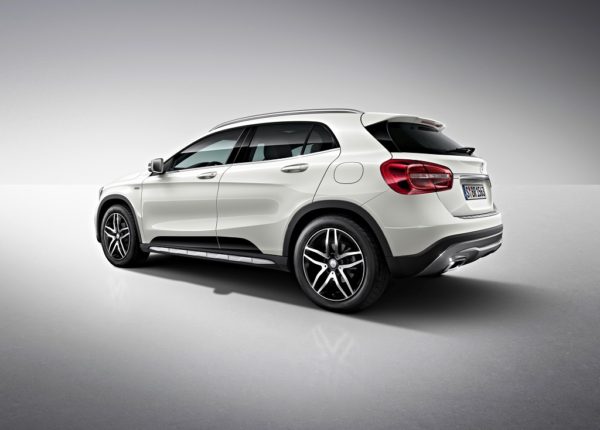 The GLA 220 d 4MATIC 'Activity Edition' features an Off-road package as standard and comes with black decals on the door, longitudinal chrome elements and 18 inch alloys. Mercedes has also introduced a new Color Option – Mountain Grey
The compact SUV features a new 8" media display with Smartphone Integration package and Keyless GO Starting function.
In terms of Comfort and Convenience the SUV comes with EASY PACK Tailgate, Rain sensing wipers, stowage package and load compartment package with multiple storage facilities equipped along with a 12 V socket in the boot and Rear seat backrests adjustment (cargo position) by additional 15 degrees for efficient use of space providing a 60-litre larger load compartment capacity.
The GLA 220 d 'Activity Edition' features a 2143 inline 4 engine with an output of 125 kW and a torque of 350 Nm capable of sprinting from 0-100 in a mere 7.7 seconds. The engine comes paired to 7G-DCT transmission and is offered with Off road engineering package.
Key Safety features on the GLA are – ESP® Curve Dynamic Assist, Attention Assist, Reversing camera with dynamic guidelines, front airbags, Front side airbags and curtain airbags (6 overall) and Tyre pressure monitoring system.
The GLA 220 d 4MATIC 'Activity Edition' is priced at INR 38.51 lakhs (ex-showroom, Pune).