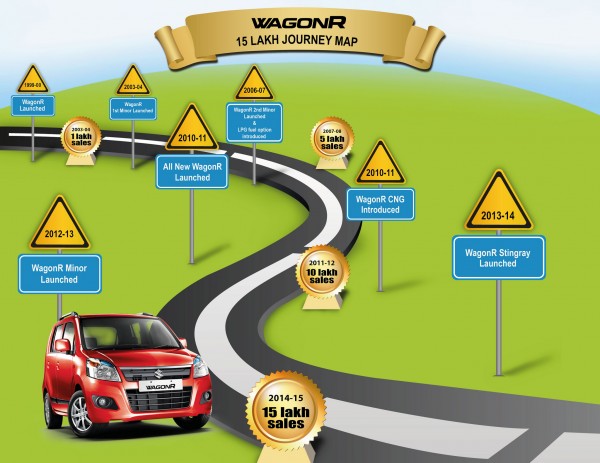 Car market leader Maruti Suzuki's "blue eyed boy" Wagon R has crossed the milestone of 15 lakh cumulative sales.
On the achievement of this milestone, Mr Manohar Bhat, Vice President (Marketing) said, "Launched in 2000, Wagon R has been amongst India's top 5 best-selling brands. With its space, features and comfort, Wagon R has been the choice of the "Smart customer" and consistently remained among India's most loved car brands.
The Company sold around 156,300 units of Wagon R in 2013-14. In the current year, Wagon R sales have already exceeded 93,000 units..
Strengthened by regular up-gradations to meet customer expectations and successful marketing initiatives focusing on the core proposition of 'Smart' while staying true to its leadership stance, Wagon R continues to win the hearts of Indian car buyers.
Adding to its popularity, Maruti Suzuki expanded the Wagon R family by bringing the CNG trim in 2010-11. In cities like Delhi and Mumbai, where CNG is available, Wagon R CNG accounts for over 50% of sales. To keep excitement going, in 2013-14 Maruti Suzuki introduced Wagon R Stingray to the Wagon R portfolio.
Powered by the 998cc K-series engine, Wagon R offers power of 68PS@6200 rpm, torque of 90 Nm /3500 rpm and a mileage of 20.5 km/l in petrol, 26.6km/kg in CNG (*as per Rule 115 of CMVR 1989).
Key milestones
Launched in 2000
2003-04: First facelift
2006-07: Second facelift and introduced Wagon R Duo (LPG)
2010-11: Full model change and introduced CNG with (i-GPI) technology
2012-13: Facelift
2013-14: Stingray introduced in the Wagon R portfolio
Cumulative sales
2003-04: 1,00,000 units
2007-08: 5,00,000 units
2011-12: 10,00,000 units
2014-15: 15,00,000 units