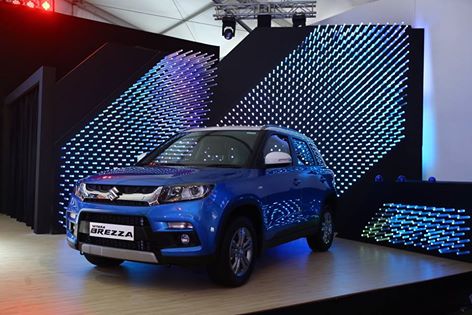 Maruti Suzuki took the Indian market by storm when the company launched the Vitrara Brezza SUV. The first car developed completely in-house by Maruti Suzuki was unveiled at the 2016 Auto Expo.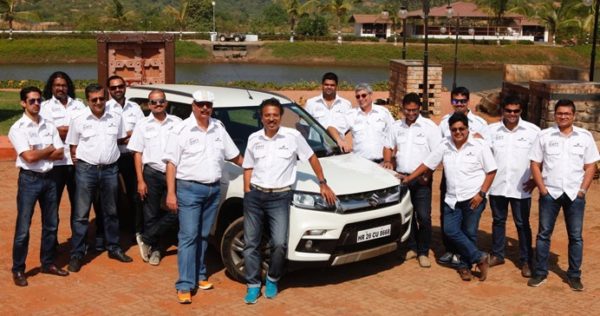 Maruti Suzuki has received over 1.72 lakh booking for the Vitara Brezza and has been the number one choice of customers in the compact SUV space and thus making it 'The Indian Car of the Year (ICOTY)' Award, for the annual year 2017. The award was presented by Dr. Raghupati Singhania, Chairman & MD, JK Tyres, at a glittering and glamorous ceremony at Mumbai.
ICOTY is the Nation's most credible and coveted auto award.
The models that are assembled and manufactured locally in India are shortlisted for the ICOTY. The 2017 qualifiers list included 19 new cars which comprise of hatchbacks, Sedans and SUVs. This year saw 13 new cars for the ICOTY award which is the highest since the last 11 years, making it a new record.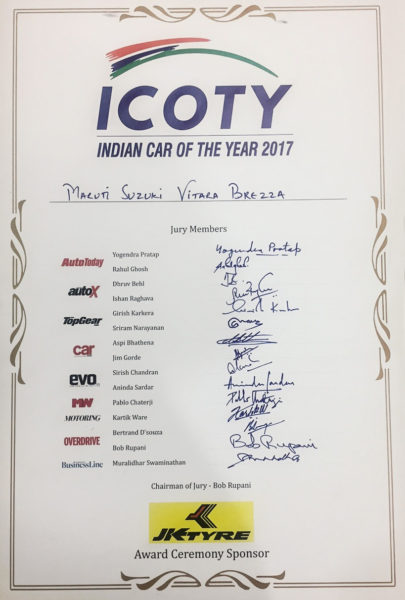 The final six contenders included the Ford Endeavour, Hyundai Elantra, Tucson, Maruti Suzuki Vitara Brezza, Toyota Innova Crysta and the Skoda Superb.
The Indian Car of the Year is the only prestigious award that has representatives from multiple publications. A consortium of 15 auto journalists declared Vitara Brezza the "Indian Car of the Year (ICOTY) 2017" among all the cars launched in 2016.
The members represent nine publications, including The Hindu Business Line, Overdrive, Top Gear, Auto Today, Car India, AutoX, Motoring World, Evo India and Mans World.
The ICOTY's specialist jury consists of 15 senior Indian automotive journalists; who together have about 250 years of car evaluation experience. Choosing the ICOTY is quite a tough decision and the Vitara Brezza SUV battled out against the Hyundai Tucson and Toyota Innova Crysta.
Check out the Indian Car of the year 2017
Maruti Suzuki Vitara Brezza is amongst India's top 10 bestselling models ever since its launch and has propelled Maruti Suzuki to the leadership position in the utility vehicle space.
Designed and developed by an Indian team of Maruti Suzuki engineers, the SUV uses Suzuki's core technology, engine and platform. The Vitara Brezza SUV is heralded as an example of Designed, created and Make in India.
The Brezza is currently available with diesel engine only and a petrol motor is under consideration with launch in 2017. The SUV will also be equipped with an automatic gearbox and an AMT option may be considered.
Check out more action of Vitara Brezza – India Car of the Year 2017
Facebook: https://www.facebook.com/VitaraBrezza/
Twitter: https://twitter.com/VitaraBrezza
Instagram: https://www.instagram.com/vitarabrezza/