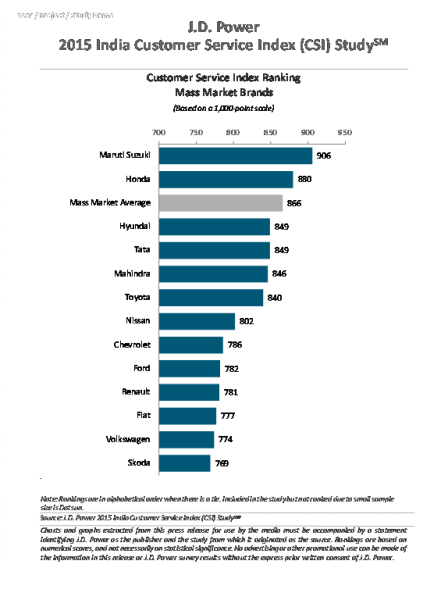 India's largest car maker Maruti Suzuki has topped the Customer Satisfaction with Dealer Service for a 16th Consecutive Year.
According to J.D. Power rigorous implementation of processes, faster vehicle turnaround and enhanced customer facilities at service workshops by auto manufacturers have resulted in an increase in satisfaction with after-sales service, according to the J.D. Power 2015 India Customer Service Index (CSI) Study—Mass Market.
J.D. Power has been conducting this study in India for the last 19 years and examines satisfaction among vehicle owners who visit an authorized dealership service center for maintenance or repair work between the first 12 to 24 months of vehicle ownership.
The Customer Service Index (CSI) Study measures overall satisfaction in five factors (listed in order of importance): service quality (43%); vehicle pick-up (17%); service advisor (14%); service facility (14%); and service initiation (11%). Overall customer satisfaction is measured on a 1,000-point scale, with a higher score indicating higher satisfaction.
Maruti Suzuki ranks highest in after-sales customer service among mass market brands with a score of 906 while Honda ranked second with 880 points and is the most improved nameplate in the study. Hyundai ranked 3 while surprisingly Tata Motors has ranked 4. The Germans are known for bad after sales and the score just validates that.
Some of the key findings from the study are
86 % of customers indicated that they were reminded about vehicle servicing via phone, letter or SMS/ text in 2015, up from 79 % in 2014, this also indicates the increase in after sales customer satisfaction, which many companies are doing with utter care
Delivering a clean vehicle post service—an important driver of satisfaction—has improved by 5 percentage points from 2014. Satisfaction among customers who receive their car back cleaner than when they brought it in for service averages 879, which is 44 points higher than among those whose car is about as clean as when they brought it in for servicing.
More than half (51%) of customers indicate they finished the paperwork and picked up the vehicle within 10 minutes after servicing, which improves overall satisfaction by 22 points.
Nearly twice as many customers who are highly satisfied (satisfaction scores of 977 or higher) say they "definitely would" recommend their service dealer to family and friends as those who are highly dissatisfied (scores of 797 or lower) (93% vs. 38%, respectively)