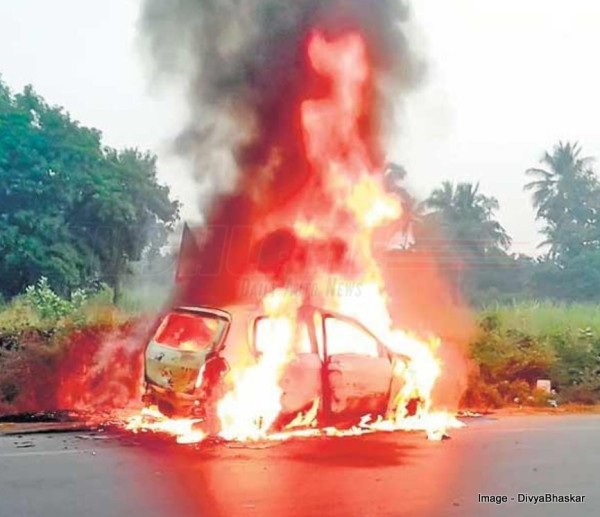 A few years back Tata Nano on fire was the big news and there were quite a few incidents reported of the Nano engulfed in flames. This time around a new Maruti Suzuki Celerio has caught fire and reduced to ashes. What's said is the driver, 32 year old Dr Jitendra Parmar has also succumbed to injuries and died on the spot.
Dr Jitedra Parmar (also known as Jitubhai Ranchhodbhai Parmar), based out of Navasari, Gujarat, was travelling back to his home from a temple in the morning hours around 6:45 AM in his Maruti Celerio diesel (GJ 21 AQ 3545) and the car suddenly caught fire.
Even before Dr Jitedra Parmar could react and halt to jump out of the car, the Celerio was engulfed in flames. A passer-by, Mr Dinesh stopped his Splendor and tried to help but could manage to pull the driver. He injured his hand as the car was in motion which eventually went and hit his bike which was parked ahead.
The fire brigade reached the spot only to stop the fire, but by then it was too late.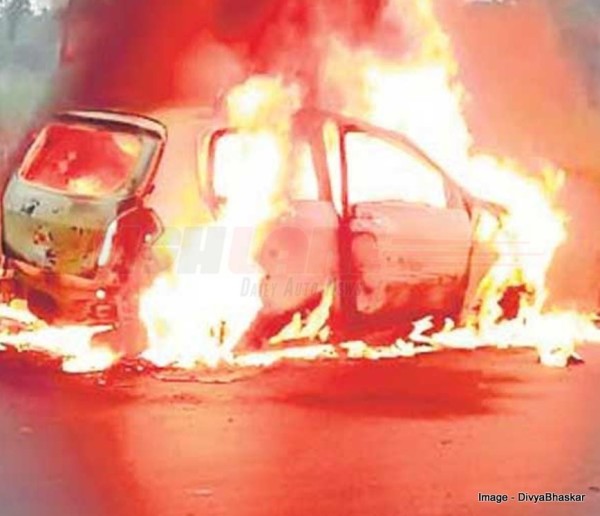 From initial reports it looks like the fire could have caused due to some short circuit.
The car was brought brand new about six months ago and is powered by a in-house developed 793 cc twin cylinder diesel engine. The Cellario diesel is priced in the range from Rs 4.71 lakhs to Rs 5.77 lakhs and is available in LDi, VDi, ZDi and ZDi (O) variants.
He hope Maruti Suzuki does a thorough investigation and hope such incidents don't repeat.
Below is a video which recorded the Maruti Celerio diesel catching fire.
Image source – Rushlane