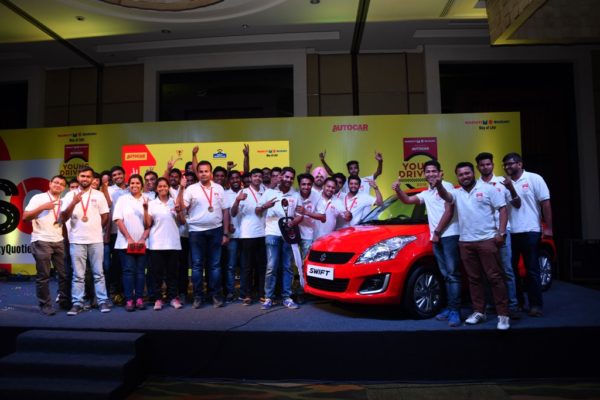 Over 2 lakh people lost their lives to road accidents in India in 2016 alone, and the numbers are rising every year. However, a lot of these accidents can be avoided by adopting safe driving practices. And with an aim of spreading awareness about safe driving practices, Maruti Suzuki, in association with Autocar India, organised Young Driver 2016, a nationwide hunt for India's best young driving talent.
This year, in its 8th iteration, the competition puts the competitors' knowledge of traffic regulations and consciousness of road safety, along with their on-road driving skills to the test. Over 57,000 youth competed through an online theory quiz followed by a driving test conducted at Maruti Driving Schools across 59 major cities of the country.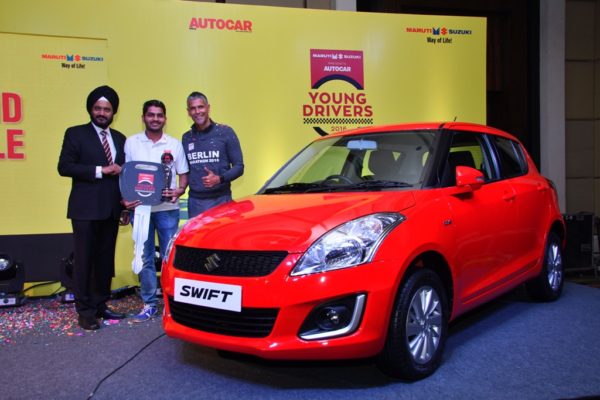 A total of 30 contestants who cleared the first 2 tests were flown to New Delhi for the grand finale, where they were judged on 20 parameters pertaining to safety, vehicle control, theory knowledge and its application while driving. These 30 finalists were crowned India's safest drivers and the best driver among all was Sanmesh Waghmare from Navi Mumbai who was awarded with a Maruti Suzuki Swift.
Commenting on the initiative, Mr. Hormazd Sorabjee, Editor, Autocar India, said, "Autocar India takes pride in being associated with Maruti Suzuki for this initiative, now in its eighth edition, which aims to make young drivers aware of the dangers of rash and perilous driving. Driving responsibly is our motto, be it in any car or any terrain. We hope to reach out to the youth of the country and educate them in driving safe and maintaining road discipline."
The communication for this year's edition was #SafetyQuotient. The idea was to inspire youth by using their own youthful lingo and attitude. Thus was born the SQ test! The SQ test challenged the youth across India to find out their Safety Quotient and challenge their friend's scores, through a fun process of gamification and education. 
Safety Quotient tests were conducted online among youth after the completion of a simple registration process. The test is designed to be young, fun, visual and yet true to the motto of road safety.
The top thirty safest young drivers for this year are:
| | |
| --- | --- |
|   Abhishek Mishra – Gurgaon |   Lovlesh Goel – Ludhiana |
|   Ajittabh Goswami – Shillong |   Manish Sharma – Gurgaon |
|   Akshar Chapanera – Mumbai |   Mansi Bhope – Gurgaon |
|   Anandhu Vijayakumar – Cochin |   Mansoor Islam Nadeem – Hyderabad |
|   Anindya Agarwal – Meerut |   Medon Tori Ker Nongrum – Shillong |
|   Anurag Gupta – Ludhiana |   Rohit Yadav – Gurgaon |
|   Ashwin Naik Tari – Goa |   Rudresh M Naik – Goa |
|   Bhavesh Kumar Varshney – Noida |   Sanmesh Waghmare – Navi Mumbai |
|   Chandan Jumani – Pune |   Satvik Kapoor – Noida |
|   Chirag Korath – Navi Mumbai |   Sonika J – Chennai |
|   Dinesh Reddy – Hyderabad |   Suraj Motwani – Chennai |
|   Garvit Rastogi – Noida |   Thomas Unni Joseph – Cochin |
|   Japreet Singh – Ludhiana |   Vetrishelvan M N – Chennai |
|   Joville Vaz – Goa |   Vijayendran I – Chennai |
|   Kamlesh Ghelot – Mumbai |   Y Chetan Sai – Hyderabad |