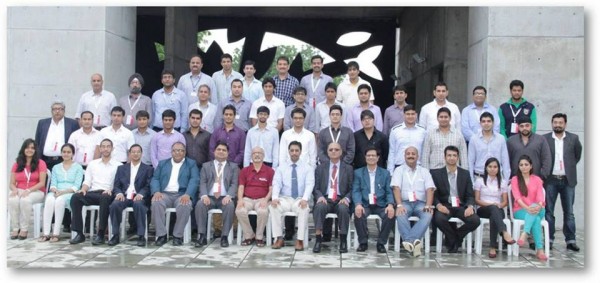 Mahindra Trucks and Buses launched the second edition of MPOWER – the Management Development Program which is aimed to train the nextgen Youth Transport Entrepreneurs in association with India's prestigious institute: Indian Institute of Management, Ahmedabad (IIMA).
The guiding philosophy behind the program is to empower the next generation of India's transporters/ fleet owners to urge them to join their Papa ka Business' and carry forward the family business with their/ your OWN vision to implement the best practices.
The second edition saw 35 participants (5 more than the first batch) attend the MPOWER 2 program. Mahindra chose and invited young transport entrepreneurs who come from one of the finest transport companies in India.
The 14 day course which is held in IIM, Ahmedabad, focuses on the issues of transport sector in India and also discusses the a few solutions and methods which when implemented will yield better results and higher profits.
The course covers the following subjects:
Professionalism
Business Planning
Market & Segments
HR Practices
Service Quality
Financial Management& Accounting
Supply Chain Management
Legal And Regulatory
Information Technology
Industry Focussed Sessions
The program commenced on August 3rd and concluded on 16th August with the valedictory session.
Mahindra is taking special initiatives to emotionally connect with the young and nextgen of transporters and MPOWER is one such step. Other initiatives include Mahindra Transport Excellence Awards and Outperformers' League and Youth Transport Personality Awards being one more such step.
The first round of MPOWER was a huge success not only in terms of an emotional connect with the nextgen of transporters but also in terms of bringing our business and offerings in their focus and also helping start a business relation with many of the people who attended. This successful engagement has motivated us to reinvest in driving a positive change in the transport ecosystem while nurturing our business interest.
We strive to make this program a grand success while it strengthens our brand even further, along with other initiatives like the Mahindra Transport Excellence Awards and Outperformers' League.
With such initiatives Mahindra is also leveraging to build a strong market presence  for Mahindra Trucks and Buses.