With lots of aspirations, Mahindra had launched e2O early 2013, hoping that people will slowly shift towards electric cars, given the ever increasing fuel prices.
But close to an year since its launch, Mahindra Reva is available in only select states and there too, we don't find too many e2Os on the road. Thankfully, few car rental companies in Bengaluru have added an E2O for self drive rentals. So I had an opportunity to explore the electric car without having to buy it and this post shares my honest observations on the car.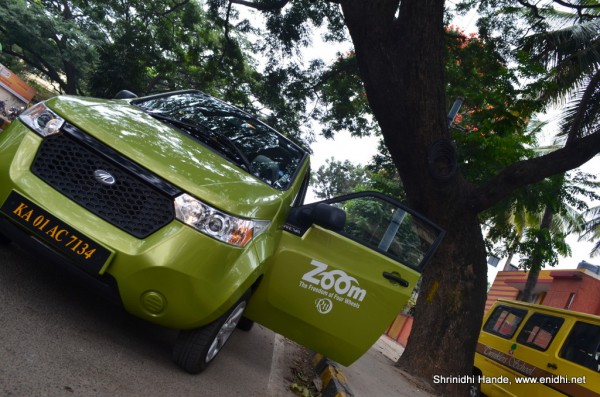 First for the looks, Reva e2O  has improved a lot over its previous variants under Maini group's regime. E2O no longer looks like a minnow, a congested-than-auto look. It does look like a proper car. Much better looking than its peers like Nano or alto. So on looks front, Reva e20 scores 10/10.
Then comes getting in and out of the car. Ingress and Egress. New Reva is a 4 seater with 2 doors. Rear seat passengers get some narrow space to get in and out, by folding front row seats. This doesn't look convenient for big adults. Only kids and enter and exit with ease, others will have to struggle a bit. But once inside, second row is as spacious as any other car in its class. Refer images below.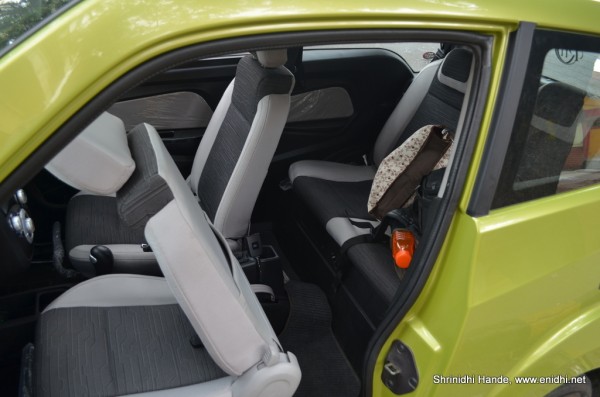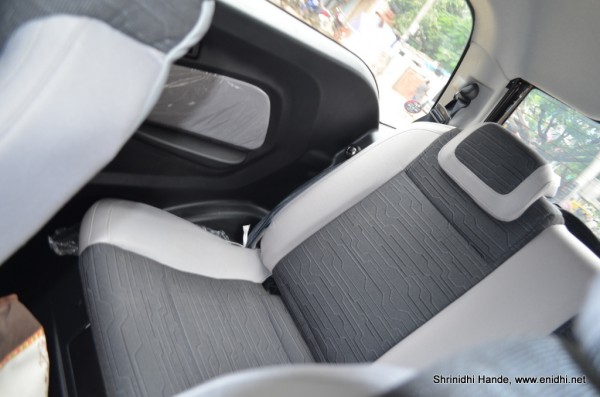 Once at driver's seat, starting the car was little tricky. One has to hold the key fob at right distance and right position and press the knob. Most of the cars with push button start work as long as keyfob is within few feet- say in your pocket. But for Reva, it has to be held closer to the button-kind of nullifies the purpose- I might as well insert the key and rotate it than doing so much circus. I am afraid now I can't use the e20 as my getaway car after bank robbery, because I can't be 100% certain it will start in first attempt.
Once started, the blue background instrument cluster comes to life, showing wide range of information-temperature, range, speed, battery %, gear and so on. On full charge, e20 gets 100kms. Which is unfortunately not adequate if you plan to go to other part of city and come back. It falls short for visiting nearby cities (Mumbai-Pune, Chennai-Pondy, Bangalore-Mysore etc) A 200km range would have been practical. Charging can't be done with ordinary power sockets, hence even mid way charging is going to be a challenge.
if you drive in B mode, if there're more people in the car or if you use AC, range drops further.
Further, just like mobile phones, battery capability drops over time and after an year or two of purchase, expect range to drop considerably. This is my mind the single most factor limiting sales of electric cars.
The Mahindra Reva e-two-oh gets an automatic transmission. So gear lever has only few positions to change to. Mahindra could have same options as in other automatic cars- D for Drive, N for Neutral, S for sports,  P for parking, R for Reverse. But Reva has F for Front, B for sports mode. N and R same as other cars.
Under normal driving conditions, Reva struggles to overtake even an auto. Need to be careful while negotiating overtakes. If slotted to B More, car gets more power, like in sports mode, but at the expense of driving range and battery life. I checked the owner's manual-which said "Use B mode when you want to overtake or have fun with your car!"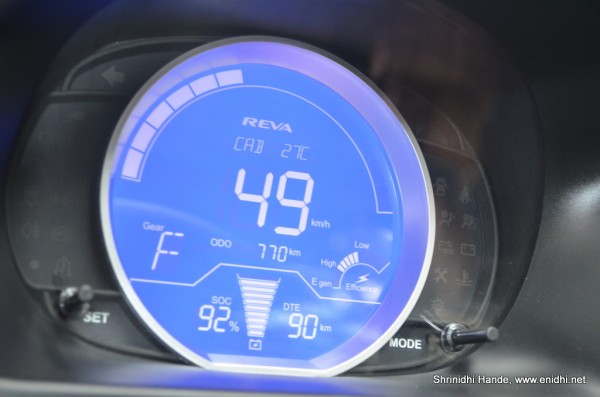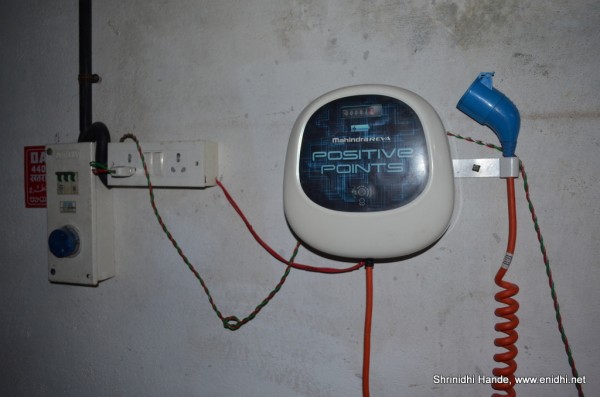 Reva's top speed is also limited to some 80 kmph, while I could only speed up till 70 kmph in city traffic.
Unlike Nano which doesn't have an openable boot, E2o gets an openable rear door, which has space to keep few hand bags or shopping bags.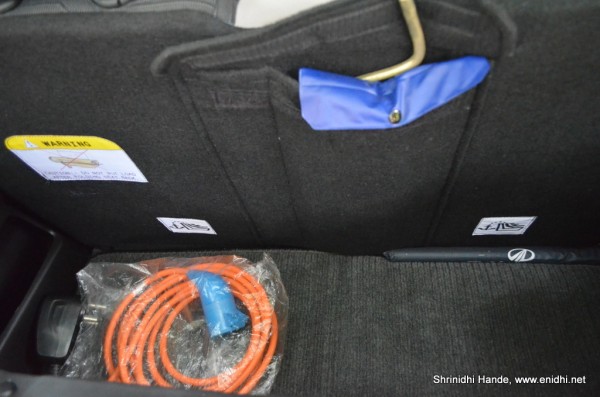 Mahindra Reva e20  official website has a calculator which tells you how much you'll save compared to petrol or diesel. But it cleverly hides few aspects, one should be careful about. Cost of battery replacement is 2-3 lakhs, required once in few years. Reva costs 2 times normal small car, hence double the EMI and hence higher the cost outgo. Given the limited range, you'll have to spend money on renting a taxi for long trips. Most of our electricity- almost two third of it- comes from burning coal and petroleum.
So it is a big fad to claim the eco friendliness by using electric cars. The electricity generated would have already burnt fossil fuels. This could be one of the reason why many states haven't bothered to give an subsidy to Reva, since lots of money is already pumped into purchase of electricity.
Getting a charging point at your office or other places can be tough. Because of all these, the car continues to be impractical to own as a primary family vehicle. Those who want to show off their concern for nature (because their other SUV is already causing enough damage) may buy e2o, for the sake of it. For middle class families who are evaluating a Maruti or Hyundai, e2O never crosses their mind.
May be once petrol price touches Rs 300 every litre, people will start taking electric cars seriously. Till then, Mahindra and Govt may consider taking some of the steps suggested in this post, to make electric cars more practical.
For more travel and automobile articles by Shrinidhi Hande please visit his blog at www.enidhi.net