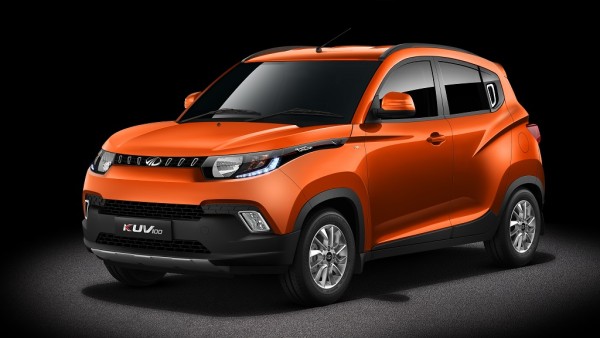 Mahindra & Mahindra has introduced the new the KUV100 compact SUV at a starting price of Rs 4.42 lakhs (ex-showroom, Pune).
Prices for the petrol variant start at Rs 4.42 lakh and the top-spec petrol variant costs Rs 5.91lakh. The base diesel is priced at Rs 5.22 lakh going up to Rs 6.76 lakh (ex-showroom, Pune).
The KUV 100 is available in 7 variants – K2, K2+, K4, K4+,K6, K6+ and the top-spec K8.
Detailed pricelist of the KUV 100
Petrol  (ex-showroom, Pune) –
KUV100 K2 – Rs. 4,42,000/-
KUV100 K2+ – Rs. 4,64,000/-
KUV100 K4 – Rs. 4,77,000/-
KUV100 K4+ – Rs. 4,99,000/-
KUV100 K6 – Rs. 5,36,000/-
KUV100 K6+ – Rs. 5,58,000/-
KUV100 K8 – Rs. 5,91,000/-
Diesel  (ex-showroom, Pune) –
KUV100 K2 – Rs. 5,22,000/-
KUV100 K2+ – Rs. 5,44,000/-
KUV100 K4 – Rs. 5,57,000/-
KUV100 K4+ – Rs. 5,79,000/-
KUV100 K6 – Rs. 6,21,000/-
KUV100 K6+ – Rs. 6,43,000/-
KUV100 K8 – Rs. 6,76,000/-