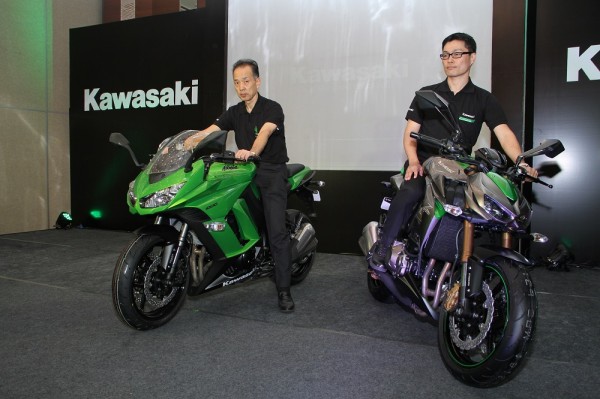 India Kawasaki Motors (IKM) have launched two of its globally renowned motorcycles – Z1000- the first naked bike in India, and Ninja 1000 to strengthen its presence in India's high end motorcycle market. The Japanese bike maker is working to further strengthen its position in the Indian market, and now retails 4 high performance bikes in the India. In September, Kawasaki introduced the high-end flagship models Ninja ZX 14R and Ninja ZX- 10R in the Indian market.
The Z1000 and Ninja 1000 are priced at Rs. 12,50,000 (ex-Showroom, Pune & Delhi) respectively and will  be imported as completely built units (CBU) from Japan. The high performance bikes will be retailed through the Kawasaki standalone showrooms in Pune and in the soon to be opened Delhi showroom to expand its footprint across North India.
The Z series of Kawasaki street-fighters has a strong legacy of more than four decades and the new Z1000 is an evolution of the dynamic super-naked bike series The Z1000 is the advanced super-naked bike currently available and the closest to it could be the Yamaha FZ1.
The Ninja 1000 from the legendary Ninja stable, will offer a combination of comfort and control. The bike will appeal to riders who would like to tour on superbikes and offers an upright seating position, large fuel tank, and adjustable windscreen.
India Kawasaki Motors' has set an initial target to sell 100 units per model per year. The company will expand its business territory pan India in a phase-wise manner and will currently focus on Maharashtra and NCR.
The Ninja 1000 and Z1000 along with Ninja ZX-14R and ZX-10R, Ninja 650R and Ninja 300 will be sold and serviced through the exclusive showroom of Kawasaki in Pune and soon to be launched showroom in Delhi.
Details of Showroom:
Kawasaki Pune Showroom, Address – 12/B, Bajaj Brand View Building, Wakdewadi, Pune – 020- 67276727
Kawasaki Delhi Showroom, Address – 36 Community Centre, Vasant Lok Vasant  Vihar, Delhi- 9910399174