How does it feel to drive an iconic premium SUV that costs half a crore? Are these off roaders really good enough to handle tough terrains? Can they really cross a river/stream? How steep is too steep? I had all these questions when I got invite to be part of Landrover Experience event in Chennai this week. And by the time our drive ended, I had more confidence- about the vehicle and myself and more off road trips and tricks up my sleeves.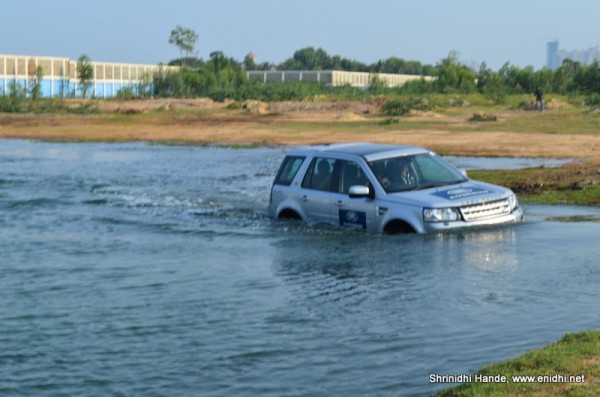 Our main objective was to experience Landrover Freelander 2. Recently JLR Completed 5 years in India and to mark the same, JLR India has launched a limited edition Freelander 2, called Sterling Edition.
We had a short briefing session wherein we were told about Freelander's unique features-
1. Hill Descent Control- Ensures that the SUV holds its ground while moving down a hill. (While driving downhill, natural tendency for driver will be to brake hard, which sort of locks the wheels and vehicle may skid like a stone. HDC works something similar to ABS to prevent this kind of skidding, by braking in small intervals, just as much as necessary.
2. Terrain response: Freelander 2 can adjust throttle response, braking and a host of controls, depending on terrain selected.
3. Approach and departure angles: Freelander can enter a ditch at 31 degree incline and exit at 34 degrees, without damaging the bumpers. With 210mm ground clearance and 500mm water wading depth, these capabalities add greatly to its off road abilities
Of course Freelander has a host of other features for safety and comfort. We focused mainly on those that aid in off roading.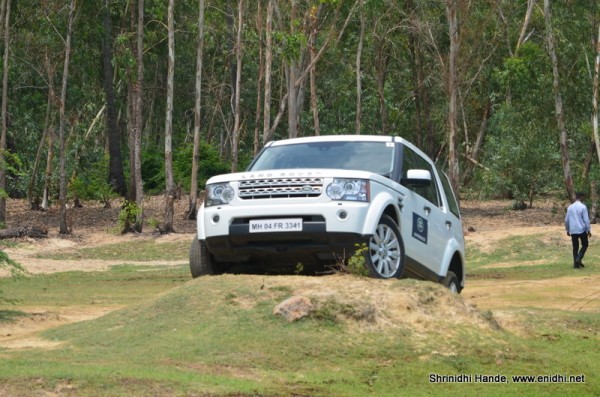 The Landrover experience was being managed by Cougar Motorsports, who specialize in wide range of Off-Road events in India, such as Tata Motors Full Throttle, The Himalayan Dash and many more.
Safety being Paramount, participants were asked to follow instructor's command to the letter, failing which instructor is empowered to take over the control.
Inside the Freelander
After being paired with an instructor, we went out to the lined up of Freelanders. First thing I was told was the correct position to hold the steering- to ensure that fingers are never folded inside of the wheel (In case of a rapid recoil, this can injure fingers). I was given this golden Mantra of Off-Roading "As slow as possible, just as fast as necessary". That is, in order to be successful in off road conditions, going slow is very critical- to ensure that we stay in control and to ensure that we don't damage the vehicle. Speed of impact often determines the extent of damage. However, there will be a few situation wherein going in too slow will get us stuck- such was mud tracks etc, uphill climb etc. In such situations, we need to maintain speed, just as much as necessary to clear the obstacle. Making this right judgement of required speed can single-handedly toggle the results between success and failure during an off-road drive.
The Drive:
We set out in motion. After negotiating small bushy track and sandy path between coconut trees, we entered the area with a few pits. We drove into the pit one by one, most of the time one of the wheels in air. At times it felt as if the SUV would topple over, given the steep tilt we were at. However, Freelander proved to be extremely stable, holding its ground during extreme maneuvers. Whenever a wheel lost traction, the other wheels take responsibility of pulling the Freelander out. Super cool.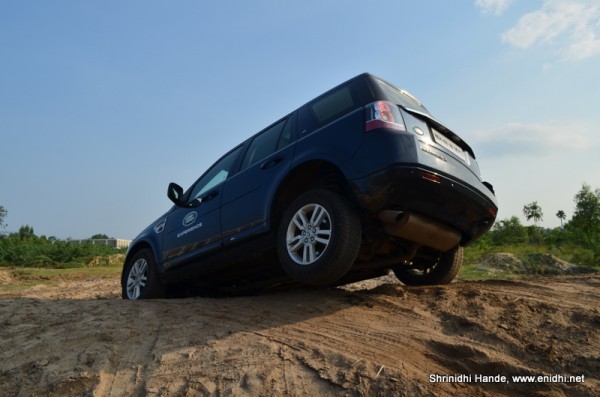 Next came the water wading. Freelander has 500mm of water wading depth. (Tata Safari has 300mm). There was a natural pond which I was told to be 4-5 feet deep. We took a peripheral path (always drove closer to the bank), but deep enough (almost up to the headlight level deep in water). I was told to maintain a steady speed so that resistance from water is uniform. Seeing water all around and driving through was a great experience. Though Freelander was half immersed in water, not a single drop came inside the cabin. Later when we opened the door, we could see water flowing out through dedicated path in the frame, without affecting the interiors a bit
Next was mud track, very light one at that, followed by a steep decline, wherein we had to negotiate between a tree and a pond. Little to the left, we might end up in the pond, little to right, car with scratch against the tree. We let LandRover's hill descent control (HDC) do its work, ensuring that breaks are applied in small instances and facilitating inch by inch movement to safety. Display has an indication that tells us which way the wheels are turned- this will help us in predict which way vehicle will move and take corrective action as needed. We negotiated few other similar obstacles, testing sand, incline, mud and uphill drive. Terrain Response can be changed on the fly and ready availability of raw power of close to 150 bhp from Freelander's 2.2 litre diesel power-plant was really handy.
The final bit was a rocky terrain. A little up climb and we had to maintain the car steady and keep moving forward. Any error could have resulted in car drifting off the track.
The experience lasted close to an hour. We drove back to the venue and got off the vehicle. Felt good experiencing Landrover Freelander's abilities to handle some of the intimidating terrains, and having learnt a few tricks and tips from the off road experts. When life throws some touch challenges at you, it helps to have one of the best off road SUVs and best of technologies on your side. While we got off cherishing our memories, Freelanders were taken in for cleaning and to get ready for next group.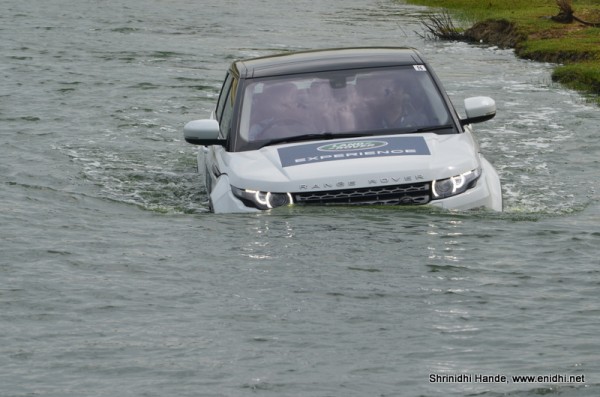 Do check JLR India official website for more details on the vehicle http://www.landrover.com/in/en/lr/. Thanks to JLR and BlogAdda for facilitating this experience.