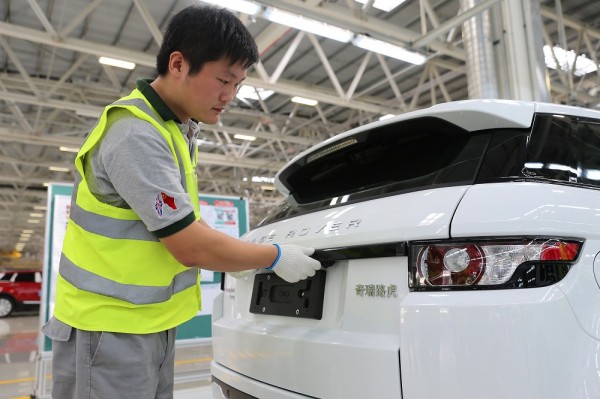 Joint venture with Chery Automobile Company to manufacture the Range Rover Evoque and introduce further Jaguar Land Rover models by 2016
Plant-opening forms part of RMB 10.9 billion joint venture investment demonstrating Jaguar Land Rover's commitment to the Chinese market
Changshu facility will have a production capacity of 130,000 units for the Chinese market only
Jaguar Land Rover today announced the opening of its inaugural overseas manufacturing facility, in China. The award-winning Range Rover Evoque will be the first model to be built under the first Chinese-British automotive joint venture, with Chery Automobile Company Ltd.
The plant inauguration of Chery Jaguar Land Rover Automotive Company follows the two-year construction of a factory, which is almost 400,000 square-metres. Located in the Changshu Economic Development Zone north of Shanghai, the factory is part of a RMB 10.9 billion joint venture investment plan.
Dr Ralf Speth, Chief Executive Officer of Jaguar Land Rover, and Mr Yin Tongyao, Chairman and Chief Executive Officer of Chery Automobile Company, welcomed the formal opening of the facility that aims to be the most advanced and efficient car factory in China.
At the plant inauguration, Dr Speth said: "The opening of this world-class facility is an important milestone for Jaguar Land Rover. Since its launch, one in five Range Rover Evoques have been sold in China. Our decision to manufacture the Range Rover Evoque in Changshu is a result of our commitment to bringing more Chinese vehicles to Chinese customers."
Mr Yin added: "Chery Jaguar Land Rover remains committed to delivering excellence in its quest to lead the Chinese premium automotive industry through its historic British lineage, world-class quality and unique shared value approach."
By 2016, the facility is expected to be building three Jaguar Land Rover models with total production capacity of 130,000 units a year. Those vehicles will be manufactured in highly-automated press shops – including cutting-edge aluminium and steel technologies – along with a steel body shop comprising 306 robots, an energy-efficient paint shop and an ergonomically-friendly final assembly line.  A new aluminium body shop, the first in China, is already under construction, at the Changshu facility, to support the introduction of new Jaguar products.
Chris Bryant, President of Chery Jaguar Land Rover joint, said:  "The plant opening marks the completion of our start-up phase of which we are incredibly proud, and now we will continue to build with the same passion and pride, to realise our goal to be the premium automotive manufacturer inspiring excellence in China's automotive industry."
Significant investment has also been committed to training more than 2,000 new people in health and safety standards, process systems and problem-solving, as well as the company's quality-control processes and corporate culture.
The facility in the Jiangsu region, part of the Yangtze River Delta, forms the centrepiece of a joint venture investment that will include the establishment of our Greater China Research and Development Centre and engine manufacturing. Inaugural sales of the China-made Range Rover Evoque are due to begin in early 2015. Further details will be released at the Guangzhou Motor Show later this year.
In a joint statement, Dr Speth and Mr Yin concluded: "We will leverage the complementary strengths of our two businesses to set new standards for manufacturing excellence, quality and sustainability in China. Together, we can look forward to expansion in China with confidence."
Jaguar Land Rover first established a presence in China just over a decade ago and has a long-term commitment to its Chinese customers. Once fully operational, output from the new state-of-the-art facility will include new derivatives and models specially designed for the Chinese market.
The company has developed a compelling CSR programme in China and, earlier this year, created the Jaguar Land Rover Children and Dream Fund, working with the Soong Ching Ling Foundation. Jaguar Land Rover China will invest RMB 50 million over the next three years in an initiative that supports and develops underprivileged young people.
Jaguar Land Rover is committed to inspiring the future generation of Chinese automotive engineers. In the last four years, more than 500 apprentices have graduated from the apprentice training programme in China.
In the last fiscal year, Jaguar Land Rover sold more than 100,000 vehicles in China, making it Jaguar Land Rover's single largest market.
Notes for Editors:
Jaguar Land Rover has ambitions to expand its international manufacturing footprint.
In addition to China, Jaguar Land Rover has confirmed plans to create a local manufacturing facility in Brazil and has a local assembly facility in Pune, India.
These world-class manufacturing facilities will provide additional production capacity supplementing that of Jaguar Land Rover's three vehicle plants in the UK.
In China, Jaguar Land Rover established its national sales company July 2010 and has more than 400 employees.
Additional Jaguar Land Rover activities in China include:

Three training academies: Shanghai, Beijing & Guangzhou
Five parts distribution centres (Chongqing, Suzhou (2), Beijing & Guangzhou)
161 operational dealers (247 appointed dealers)
Three Land Rover Experience Centres

During calendar year 2013, Jaguar Land Rover sold 425,006 vehicles, up 19%. Of that Jaguar sold 76,668 vehicles and Land Rover sold 348,338 vehicles
Jaguar Land Rover will invest circa £3.5bn in product creation and capital expenditure in the financial year to March 2015.
In the 12 months to 31 March 2014, Jaguar Land Rover generated profit before tax of £2.5bn with revenues of £19.4bn.