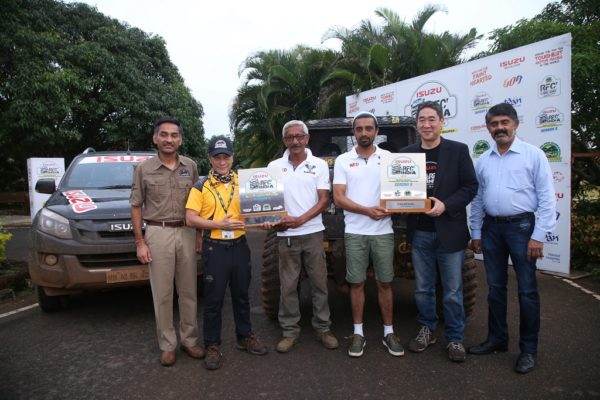 After a week-long grueling offroading action, last moment surprises and unprecedented ups and downs on the leaderboard, veteran rallyist Jagat Nanjappa and co-driver Chetan Changappa of Coorg's Team V5 Offroaders have emerged as the ultimate champions of ISUZU RFC India 2018. They have won the fifth season of India's toughest international off-road motorsport competition with a total score of 2006 points out of 2600. With this win, Jagat and Chetan have become the second Indian, and the first offroader from South India, to win the coveted title ever since its launch in the country in 2014. As the ISUZU RFC India 2018 Champions, Jagat and Chetan will represent the country at RFC 2018 Global Series Grand Finale. The total benefits they have received amount to USD 10,000, including the entry fee, airfares as well as support towards car rental in Malaysia.
The overall second position was held by Malaysian driver Mervyn Lim (co-driver Alex Tan) of Team G.O.A. Fairmont with 1849 points. Defending RFC India Champion Gurmeet Virdi (co-driver Kirpal Singh Tung) of Gerrari Offroaders Chandigarh clinched the third spot on the podium with 1800 points. Sanbir Singh Dhaliwal (co-driver Gurpartap Singh Sandhu) of Gerrari Offroaders Chandigarh was at the fourth spot in the competition with 1742 points, while Dr Chaitanya Challa (co-driver Shabarish Jagarapu) from Hyderabad, also representing Team G.O.A. Fairmont, secured a spot in the top five with 1668 points.
A nine-time Indian National Rally Riders Champion from 1986 to 1996 in the motorbike section, a Great Desert Rally Champion in 1988, Coimbatore Rally Champion of 1992, MASA Rally Mumbai Champion of 1993 and 1994, Jagat has had an illustrious motorsport career spanning four decades. Claiming the only remaining gem in his string of pearls, Jagat has finally added the RFC India title to the list of his achievements in the third attempt at the competition.