Khushi Cars is the new authorised dealership for Isuzu Motors in Jaipur, Rajasthan.
Isuzu Motors India launched the Isuzu D-Max V-Cross in Rajasthan, on occasion of the inauguration of its new authorized dealership 'Khushi Cars' in Jaipur.
The company also launched the new range of D-Max S-CAB and the D-Max Regular Cab.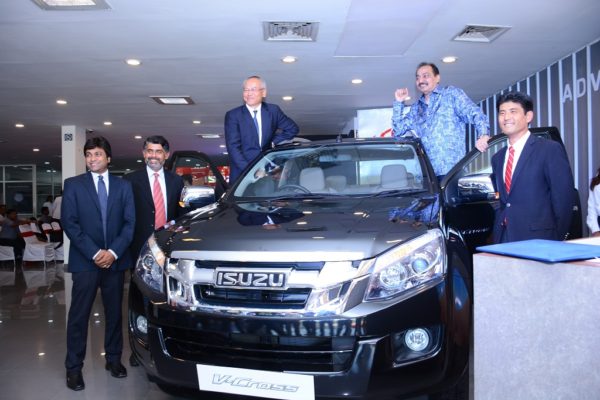 The V-Cross is India's First Adventure Utility Vehicle, and caters to those SUV buyers who seek adventure and want to stand out among their peers. The V-Cross comes with a highly capable 4WD, loads of modern SUV features and a large practical luggage deck.
The D-Max V-Cross is attractively priced at INR 12.84 lakhs (Ex-showroom, Jaipur).
The D-Max S-CAB is made for those smart business buyers who seek a unique combination of space, style and strength in their double cabin pickup trucks used for transportation of themselves, their teams and material to work.
The Regular Cab comes with a single cab and goods carrying space, and is meant for those business owners cum drivers, who want a stylish, capable and comfortable vehicle which they can themselves drive with pride.
The D-MAX S-CAB is priced at INR 8.14 lakhs (Ex-showroom, Jaipur) and ISUZU D-MAX Regular Cab starts at INR 6.58 lakhs onwards, (Ex-showroom, Jaipur).
The new dealership facility 'Khushi Cars' in Jaipur (showroom and workshop) have been designed and built according to stringent Isuzu Dealership Standards and are strategically located so as to provide a convenient access to the visitors and customers.
The dealership employees have been trained under the supervision of Isuzu experts and will provide a world-class customer experience to the visitors at the showroom and workshops.
Showroom Address: 1A & 28A, Karoli Bagh, Gopalpura Bypass, Near Gurjar Ki Thadi, Jaipur- 302 019
Workshop Address: G-109A, Sitapura Industrial Area, Jaipur, Rajasthan 302 022
Contact: Mr. Prabhat Mishra
Mobile: +91 9799330222, +91 9950076349