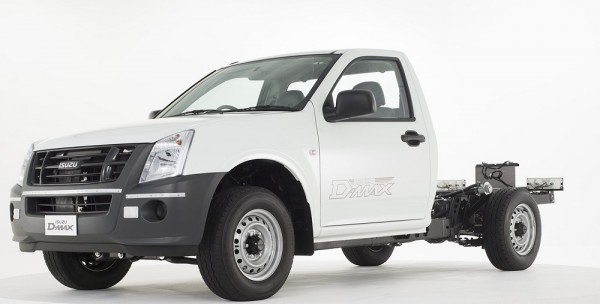 Isuzu Motors India introduces D-MAX Air-Conditioned and Cab-Chassis variants
The D-MAX Single Cab Flat Deck is now also available with factory built A/C variant.
The Isuzu D-MAX Cab-Chassis will address the growing need for custom-built applications.
The globally-renowned Isuzu D-MAX known for its durability, reliability and fuel efficiency will now be available in two new variants meeting specific requirements of the customers in the pick-up segment. Isuzu Motors India Private Limited, currently selling the Isuzu D-MAX in India has expanded its D-MAX range with Air-Conditioned and Cab-Chassis variants.
The Isuzu D-MAX Single Cab Flat Deck will now be available with a factory built Air-Conditioned variant to offer the D-MAX customers more comfort and a fatigue-free driving experience. In a tropical country like India where temperatures soar, an air-conditioned vehicle helps reduce fatigue and increases productivity. The D-Max with air-conditioning will be a perfect partner for our customers.
The Cab-Chassis variant will fulfil the needs of customers' operating vehicle applications across various businesses such as Food & Catering, Perishables, Hardware, FMCG, etc. Such customers will now have the flexibility to construct their own load-bodies suiting their business requirements. This variant will be available in the Isuzu D-MAX Single Cab model. Further the D-Max is the most suitable vehicle for Cold-Chain applications due to its higher power and other features. Again in India where temperatures are usually above 25 degrees in most places and most times of the year, the need for a highly efficient refrigerated pick-up gains significant importance. Efficiency improves performance and reduces wastage and on this the Isuzu D-Max scores over the rest with great advantage.
Speaking about the new variants, Mr. Naohiro Yamaguchi, Managing Director, Isuzu Motors India, said, "With the roll-out of these new Isuzu D-MAX variants, we are offering our customers a comprehensive range of options to choose from, meeting specific needs and requirements of different businesses. Under the harsh heat and tiring conditions in India, modern customers look for comfort features that enhance productivity while reducing fatigue, even for their drivers. The D-Max with Air-Conditioning will be the perfect choice. On the other hand, the Cab-Chassis variant is a perfect partner that provides customers' the flexibility to choose their load-body configuration and maximize value. This is an important development and an extension of our product offering in the pick-up segment, enabling customers to 'Go More, Do More and Get More'."
The award winning Isuzu D-MAX is tough, reliable and fuel efficient. It is built on a heavy-duty chassis that offers Isuzu's legendary durability and superior performance, making it one of the most competitive pick-up trucks in the country. The Isuzu D-MAX has a large and wide cargo deck that can carry loads with ease. The cab of the Isuzu D-MAX is made from high-tensile steel that ensures greater safety. The front and rear suspension having independent coil springs and rigid leaf springs respectively, provide greater stability to the vehicle. It sports a bold and aggressive look on the outside and sophisticated, passenger-vehicle like interiors, making it a pride for the owner. Powered by the legendary Isuzu engine technology, the Isuzu D-MAX makes it the ideal pick-up for a profitable business.
A completely new concept in India, the new Isuzu D-MAX Space Cab's unique feature is its extended cabin space of 1.5 feet behind the drivers' seat, which can store valuable/ fragile goods. It offers significant features like power steering, power windows, centralized door lock, etc., making it ideal for commercial use in industries like Agriculture, Retail, Dairy, Engineering, Manufacturing and Small businesses.
Isuzu is rapidly expanding its dealer network in the country and has plans to open 60 outlets across India by end of 2015-16. Isuzu currently has 20 dealership facilities at Delhi, Noida, Jaipur, Mumbai, Chennai, Bangalore, Hyderabad, Coimbatore, Madurai, Visakhapatnam, Tirupati, Cochin, Calicut, Ahmedabad, Rajkot, Ludhiana, Lucknow, Gurgaon, Indore and Vadodara.
About Isuzu Motors (India)
Isuzu Motors Limited, Headquartered in Tokyo, Japan is a global manufacturer of light, medium and heavy commercial vehicles, utility vehicles and diesel engines. With operations in 25 countries, selling in more than 100 countries worldwide, the company is a leader in pickups and pickup based derivatives in many markets. The company manufactures and sells over 6 lakh units annually across the world.
Isuzu Motors India Private Limited (IMI), a subsidiary of Isuzu Motors Limited, Japan, was established in August 2012 in Chennai, Tamil Nadu. Headquartered in Chennai, Isuzu currently has a contract manufacturing agreement with Hindustan Motors (HML) under which HML is assembling CKD kits of Isuzu's Sports Utility Vehicle MU-7 and pick-up truck D-Max, at its Thiruvallur, Chennai plant.
Isuzu began civil works on its proposed manufacturing plant site in SriCity, TADA, Chitoor District, Andhra Pradesh, in January 2014. The company had acquired 107 Acres of land in 2013 after signing a MoU with the Andhra Pradesh State Government in order to start automobile manufacturing operation in India. This new facility is likely to commence commercial operations by early 2016, with the initial production capacity at 50,000 units/ year. Isuzu will scale up the production capacity to 120,000 units/year, with the accumulated investment of Rs. 3,000 Crore, and is expected to generate 2000 – 3000 jobs. The company has plans to open 60 dealership outlets across the country by 2016 and aims to have 160 by 2020.
Isuzu Motors India plans to achieve 100% percent localisation within three years of commencing production in 2016. It is an exemplary showcase of Isuzu's long term commitment to the Indian market.