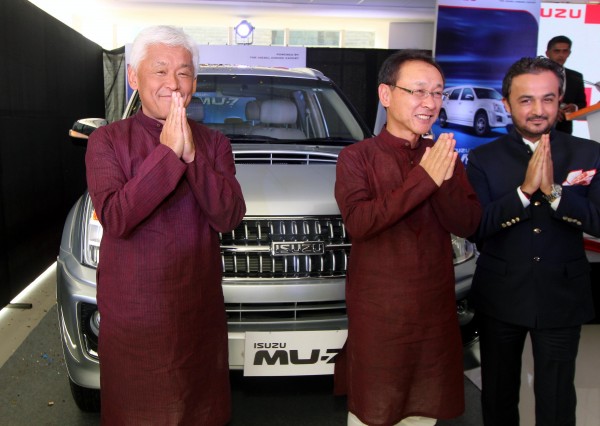 Fahrenheit Isuzu will be Isuzu's  3S (Sale, Service & Spares) facility catering to customers of UP & NCR
Launches its range of D-MAX pickup trucks and the MU7 SUV in UP market
Plans to open 60 outlets across India by end of FY 2015-16
With an aim to strengthen its presence in the largest consumer base of the country, Isuzu Motors India Private Limited, the Japanese automobile maker and global diesel engine expert, today inaugurated its first dealership in Noida. Fahrenheit Isuzu is Isuzu's first dealership outlet in Uttar Pradesh (U.P.). This outlet will give customers access to Isuzu's sports utility vehicle- MU-7 and its pickup trucks range- D-Max. Located in Sector 63, the dealership facility spans an area of 14,000 sq. ft. enabling Isuzu to cater to a prospective market across western UP and NCR.
Commenting on the occasion, Mr. Takashi Kikuchi, Managing Director, Isuzu Motors India, said, "I am delighted to inaugurate our first dealership of Uttar Pradesh in Noida. This development marks our entry into the third largest economy of India which contributes to approximately 15% of the total automobile sales in the country. UP is a key market in Isuzu's growth strategy for India and we are hopeful that the launch of this dealership will help us further strengthen our position."
Mr. Shigeru Wakabayashi, Deputy Managing Director, Isuzu Motors India, said, "Uttar Pradesh is a hub of diverse commercial activities including a prosperous agricultural hub in western UP making it an exciting market for Isuzu. We are extremely happy to open our first dealership outlet of UP. This dealership will not only help Isuzu Motors enter the potential markets of Uttar Pradesh but also give access to the other parts of NCR."
Mr. Kunal Ramchandani, Managing Director, Fahrenheit ISUZU said, "We are pleased to be associated with the world's leading manufacturer of commercial and utility vehicles. With this dealership we plan to bring the best of Isuzu's sports utility vehicles and pickup trucks to this part of the country. Being a 3S dealership, our facility will be a one stop shop for our customers."
Isuzu has plans to open 60 outlets across India by end of 2015-16. To strengthen its reach in North India, Isuzu plans to open outlets in Gurgaon, Jaipur and Punjab by March 2015. Prior to this, Isuzu has already established presence across seven states in India including Delhi, Maharashtra, Tamil Nadu, Kerala, Andhra Pradesh, Telengana and Karnataka with dealerships in Delhi, Mumbai, Chennai, Bangalore, Hyderabad, Coimbatore, Madurai, Visakhapatnam, Tirupati and Cochin.
The MU-7 inherits Isuzu's diesel-engine expertise and is endowed with superior fuel efficiency and outstanding engine performance. A 3-metre wheel-base makes the MU-7 one of the longest SUVs available in India, offering luxurious and spacious interiors.
The D-Max range comprises of three models – two cabin options and two deck options. D-Max Single cab is available in flat deck and the D-MAX Space Cab is available in both flat deck and arched deck variants.
Isuzu's D-Max has a heavy-duty chassis, a large cargo bed to "accommodate the bulkiest of loads" and its body structure is made from high-tensile steel. It sports a bold and aggressive look on the outside and sophisticated, passenger-vehicle like interiors, making it a pride for the owner.
A completely new concept in India, the new D-MAX Space Cab's unique feature is its extended cabin space of 1.5 feet behind the drivers' seat, which can store valuable/ fragile goods. It offers significant features like Power steering, Power windows, Centralized door lock, AC with heater etc., making it ideal for commercial use in industries like Agriculture, Retail, Dairy, Engineering, Manufacturing and Small businesses.
In September 2014, the Isuzu D-MAX also successfully completed the "Isuzu Max Run Challenge", wherein 3 Isuzu DMAX pick-up trucks covered a distance of more than 1000 kms, from Vijayawada (AP) to Mumbai (Maharashtra) without re-fuelling. "Isuzu Max Run Challenge" is a global initiative that has been successfully undertaken in Australia, Philippines, Thailand, Malaysia and Middle East earlier and this is the first time this has been introduced in India. The three day drive helped establish the fuel efficiency of the vehicle under actual Indian road conditions (19.6kmpl).
The MU-7 is priced at Rs. 19.99 lakh onwards (ex-showroom Noida) and the D-MAX range is priced from Rs.6.13 lakh onwards (ex-showroom Noida).