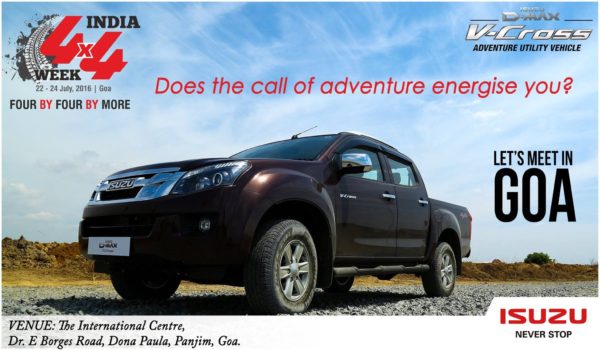 Adventure Seekers will get to experience the ISUZU D-MAX V-Cross at a specially designed 4×4 track.
The all-new ISUZU D-MAX V-Cross is ready to enthuse the adventure seekers at the India 4X4 Week 2016 to be held in Goa.
Isuzu Motors India will display and offer a driving experience at a specially designed track that would exhibit and highlight the capabilities of the first Adventure Utility Vehicle in India.
The V-Cross was introduced at the Auto Expo 2016, and has been gaining popularity amongst vehicle enthusiasts and adventure seekers in the country.
India 4×4 week is being organized by Delhi-based Cougar Motorsport Pvt. Ltd., the inaugural edition of India 4×4 Week will be held in Goa from 22nd July to 24th July 2016 as the country's largest convention focusing exclusively on vehicles with 4 wheel drive (WD) capabilities, their manufacturers, owners and everyone sharing an interest in the same.
Isuzu D-MAX V-Cross is a tough and durable Adventure Utility Vehicle, with aggressive styling and a highly capable shift-on-the-fly 4WD.
The V-Cross also carries a load of safety and contemporary features that offer customers a premium driving experience.
The V-Cross is also a good match for those personal vehicle buyers who want to showcase their individuality in urban settings and stand out from the current crowd of SUV owners in the market.