Hyundai Motor India Limited, the second largest manufacturer of passenger cars and the largest exporter since inception signed a MoU with Automotive Skills Development Council (ASDC) to conduct training & create job opportunities for unskilled manpower above 18 years of age and having qualification of 8th grade and above. 
Under this agreement, the training program will be conducted at six Hyundai dealerships associated with Hyundai's World-Class Technical Training Academy-HTTA across India. After the successful completion of the program, the students will also be offered an opportunity to work in Hyundai workshops for aftersales jobs such as Service Support Technician and Washer.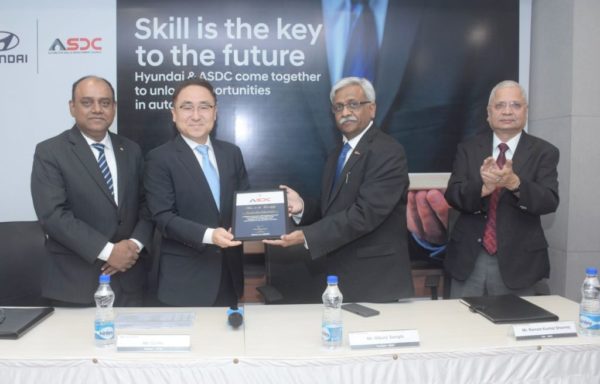 Commenting on the association with ASDC, Mr. SJ Ha, Director- Sales & Marketing, Hyundai Motor India Ltd. said, "We are proud to sign this MoU with Automotive Skills Development Council – A first in Industry initiative by an automobile manufacturer in India for aftersales operations. As a responsible and caring brand, Hyundai is aligned and committed to the Government's Skill India initiative. We work with ITI's and Polytechnic institutes in every state where we absorb close to 99 percent students in different entities in the Hyundai India ecosystem. This MoU will further boost our commitment towards skilling and employing the youth of India."
Speaking at the occasion, Mr. Nikunj Sanghi, President, Automotive Skills Development Council (ASDC) said, We are happy to partner with Hyundai Motor India in this Skill Development initiative. This association is a benchmark in the industry and aims at strengthening the Government of India's vision of Skill India in employment generation."
Trainees will be given an option to choose from different automotive training courses designed by ASDC like Automotive Service Technician and Washer Training. The ASDC training will be provided at subsidized fees to the young and unskilled population which will empower them to take up the After Sales Operational roles at Hyundai dealerships across India.