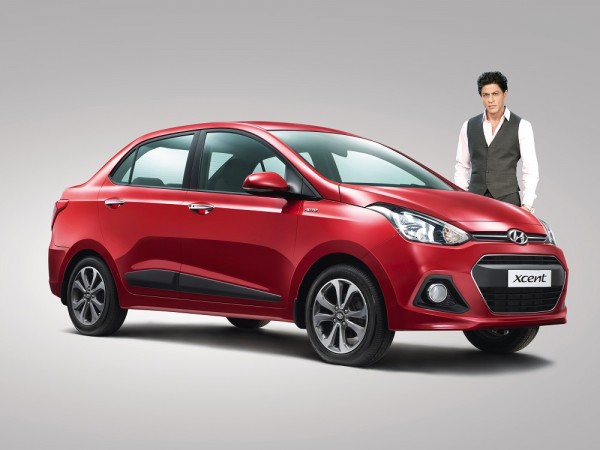 Launches new Xcent TVC featuring Shah Rukh Khan
Amplifies 16 years of long-standing association with SRK
Hyundai Motor India Limited (HMIL), the country's largest exporter and the second-largest car manufacturer, today announced Bollywood legend and superstar Shah Rukh Khan as the brand ambassador for Xcent- the real family sedan. Endorsing Hyundai's flagship products for 16 years, Shah Rukh Khan's long- standing association with Hyundai truly personifies the Modern Premium legacy of the brand. Hyundai and SRK's association has been one of the long-lasting association not only for an automobile company but for any brand in India.
 The new TVC is built around the theme of, "multiplying the life's joys with the generous Xtras like –  Xtra space, style and comfort". The film unfolds to show how SRK is an 'Xtra Hunter' and has a quest for more. Xcent is a trendsetter in the compact sedan segment defining Hyundai's automotive excellence in India. Hyundai Xcent began its successful innings in February 2014 with the global launch at Auto Expo in New Delhi as 'A Real Family Sedan' and till date 35,400 happy families are experiencing brilliance with Xcent.
Speaking on the association, Mr.BS Seo MD& CEO- HMIL, said, "It's been a wonderful journey with Bollywood superstar Shah Rukh Khan, as we complete 16 years of long-standing association. SRK's association has enhanced the brand's reminiscence and propagated our Modern Premium brand values. And with the transition from i10 to Xcent, the new association connects the family man Shah Rukh Khan with the attributes of real family sedan Xcent. Xcent with its premium features and stylish design has made its mark amongst the customers and we are confident that the new association will create the magic again."
On this association, Shah Rukh Khan, Bollywood Superstar and Hyundai Brand Ambassador expressed, "It's a delight to have been associated with Hyundai for 16 years and it never seemed like work to me. It was always a pleasure to be associated with one of the most trusted and loved car brand in India. For me the brand Hyundai is family as we have grown together for the last 16 years. Hyundai has always been close to my heart, as it gave people the power to own a modern premium, stylish and valuable car."
The new campaign of the compact sedan has been designed for the aspirational, stylish and value-seeking Indian customer. The storyline is based on the consumer insight that a typical middle class Indian pursuits for a bit of extra in every deal. The TVC shows Shah Rukh Khan, as a young professional who is a vivacious dad to twins always pursuing for Extra from his life. He is stumped one day by his own twins who decide to playfully return the favor by demanding from the valet, a car that has more than what their present car has to offer. And what follow is 'extra surprise', for the family wherein they get a ride and a ride of their lives with Hyundai Xcent.
Link for the TVC: http://youtu.be/fygEI-C9D2Q