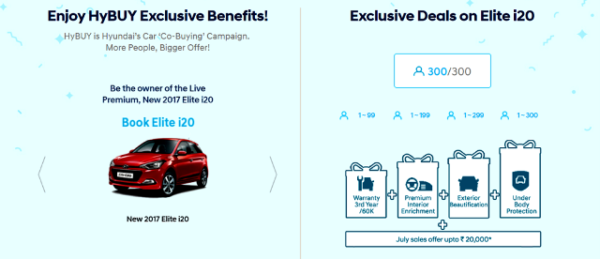 Hyundai Motor India Ltd (HMIL) recently launched an innovative digital marketing initiative for online purchase of its popular 120 hatchback. It offers a unique buying experience which  encourages customers to not only book and buy an Elite i20 but to amplify the deal by sharing it to their social network for all to gain more benefits and rewards.
The company claims that it received booking for 300 units withing just 2 week of this digital marketing initiative. The HyBUY website also received over 7 lac visits and close to 5 lac shares on facebook.
Speaking on the success of the 'HyBUY' initiative, Mr. Puneet Anand, Sr. General Manager (Marketing) & Group Head, Hyundai Motor India Ltd. said: "We are overwhelmed with the response to the HyBUY initiative. We thank the customers for their participation in this first-ever, group buying concept in the auto industry which was designed to give 'Power to The People' through social sharing which resulted in 300 bookings in just 2 weeks. The success of this initiative is a testimony of Hyundai's determined and innovative approach that encourages us to conceptualize many such campaigns that add 'Brilliant Moments' to the lives of our customers."
Hyundai's HyBUY sets an industry benchmark, redefining the car buying journey for customers. It is based on 3 main pillars – Simple, Caring and Creative, fueling Hyundai brand's key vision of being "Lifetime partners in Automobile and Beyond".
For more information on HyBUY login to: www.HyBUY.in