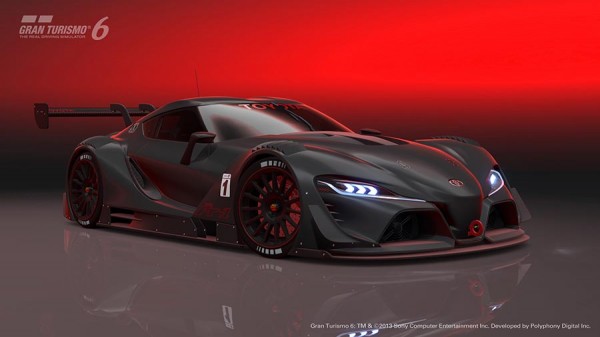 Toyota have released images of the concept FT-1 sports coupe Gran Turismo that will be exclusively rendered for and able to be driven in "Gran Turismo®6" on the Play Station®3.
Toyota's FT-1 sports coupe concept raised a storm of approval when it first appeared "in the metal" at this year's Detroit motor show and then went on to prove its performance in the virtual speed world of the Gran Turismo 6 PlayStation® computer game.
Now the car's designers at Toyota's CALTY studio in California have gone even further to produce a pure-bred racing version to add to the thrill of the more hard-core Vision Gran Turismo.
The FT-1's basic shape and architecture lend themselves to the addition of extra cooling and downforce elements to develop the car into its Vision guise, using a design process CALTY dubs "function sculpting".
Details include wider wheelarches to accommodate the larger tyres needed for extreme grip; enlarged air intakes for increased cooling; and a larger rear wing and front Canard fins to generate greater downforce. There's also a bigger rear diffuser housing multiple fins, set further back to create a cleaner airflow.
In essence, every detail has been addressed to make the FT-1 Vision Gran Turismo look and feel the way it performs to create the sensation of a real race. The FT-1 Vision Gran Turismo will be available for Gran Turismo 6 users from September.
Vision Gran Turismo names a new collaboration project, in which world leading car manufacturers and brands are participating with their concept vehicles.