Honda Motorcycle and Scooter India announced the national winner of #HondaNAVicustomania.
The Grand Finale was concluded at high voltage Bollywood Music Project 2018 where thousands of youth congregated to witness Bollywood music performances and saw the FUNtastic NAVi in it's full glory.
The winners were felicitated by Mr. Minoru Kato, President and CEO, Honda Motorcycle and Scooter India Pvt. Ltd.
Launched in 2016, NAVi's design statement in its standard form, is FUN TO SEE and pure FUN TO RIDE. Providing endless possibilities in expression & Customization for the young customers – NAVi is designed in such a way, that it opens up a significant opportunity to modify & customize it to suit one's taste. And therefore pure FUN to Create.
Battling it out amongst the Top 24 (2 winners from each city), Grand Finale winner Mr. Dhananjay Parihar received a prize money of Rs. 2 lacs along with a once in a lifetime opportunity to showcase his/her custom NAVi' inside the Honda 2Wheelers India pavilion at Auto Expo 2018. Mr. Ashiq Joseph Thomas from Kottayam finished runner-up and won Rs 1 lac.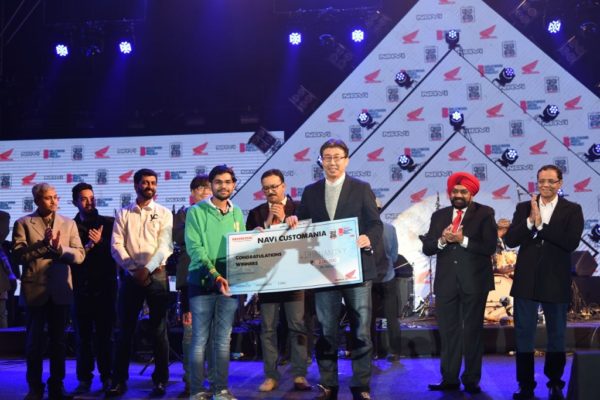 Speaking on #HondaNAViCustomania Grand Finale event, Mr. Yadvinder Singh Guleria, Senior Vice President, Sales & Marketing, Honda Motorcycle & Scooter India Pvt. Ltd. said,
"NAVI's unique design provides endless possibilities in customization for young customers. Celebrating the spirit of customisation, NAVi Customania is a platform for youngsters to project their self-expression on two wheels. What is most interesting is to see is the trend of customisation being developed, not just in metros but smaller cities as well. We congratulate the well deserving winners and look forward to showcase their custom NAVi's at Honda 2Wheelers India pavilion @ Auto Expo 2018!!''
About HondaNAVicustomania:
In this first-of-its-kind initiative, #HondaNAViCustomania made customization mainstream in the Indian 2wheeler industry. NAVi Customania's journey started last year in the month of October and received more than 10,000 participations across India in just over a month's time.
The highlights of the contest were in Stage 3- City Finales which were conducted in 12 cities (Pune, Indore, Goa, Nagpur, Hyderabad, Chennai, Kolkata, Bangalore, Lucknow, Mumbai, Ahmedabad and New Delhi). With all the 24 city finalist (2 winners from each city) customized NAVi's displayed in the Honda Road Safety Zone at upcoming Auto Expo in Greater Noida, visitors will get a chance to experience the passion that has gone in to customization.