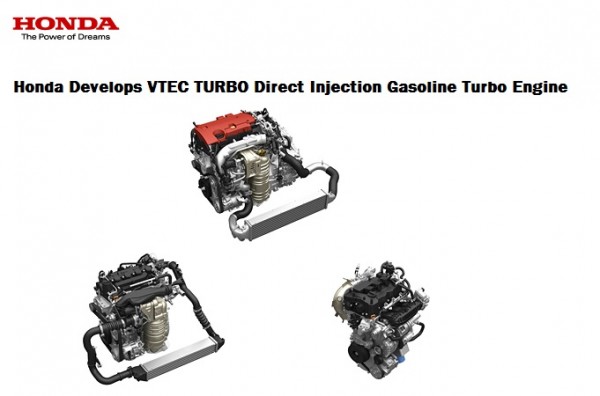 Honda Motor Company announced their line-up of new generation petrol engines. The company has developed VTEC TURBO, a direct injection gasoline turbo engines is addition to the Earth Dreams Technology which will offer a best mix of driving pleasure and excellent fuel economy.
Honda has combined the application of variable valve motion technology, direct injection turbocharging with highly-fluidized combustion and a thorough reduction in engine friction to offer engines which achieve class-leading output and environmental performance, at the same time downsizing engine displacement.
Along with existing hybrid technology and diesel engine, the VTEC TURBO features displacement size variation of 2.0 L, 1.5 L and 1.0 L and these engines will power the next generation of Honda products globally and will be tuned to meet the needs of local customers.
Lineup of direct injection gasoline turbo engines
2.0 L 4-cylinder direct injection gasoline turbo engine: 280 hp, Euro 7 compliant
1.5 L 4-cylinder direct injection gasoline turbo engine / 1.0 L 3-cylinder direct injection gasoline turbo engine