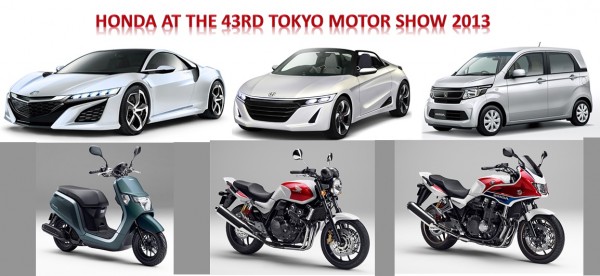 Honda Motor has announced its line-up for the 43rd Tokyo Motor Show 2013 which is being held between 20th November and 1st of December 2013. Honda will display a mix of production and concept automobiles, motorcycles, power products, and other highlights such as engine technology and Robotics.
Based on the theme Live Outside the Box, Honda will showcase new concept models such as the Honda S660 CONCEPT, an open-top sports-type mini-vehicle, the NSX CONCEPT, the next-generation super sports model and the all-new UNI-CUB, a personal mobility device developed under the theme of "harmony with people."
Honda will preview the production model of the Urban SUV concept which is one of the most important models for the company based on the new Jazz platform. The Urban SUV is the second model of the Global Compact Series, was unveiled at the 2013 North American International Auto Show in January this year and will go launch in Japan in December this year.
Honda will also unveil the N-WGN, the 4th model of the N Series of mini-vehicles beside other models such as the all-new Accord Plug-in Hybrid, Fit equipped with Earth Dreams Technology and several other models.
The motorcycle section will display the Dunk, a new style 50 cc scooter equipped with a newly-developed liquid-cooled engine and the CB1300 SUPER BOL D'OR
Key models on display
1)      Automobiles
S660 CONCEPT:
NSX CONCEPT
N-WGN
Production model of Urban SUV
N BOX * Refreshed model
N BOX +
N-ONE
Fit
Fit Shuttle
Accord Plug-in Hybrid
CR-Z
Freed
All-new Odyssey * Product announcement scheduled at the end of October of this year.
Step WGN Spada
2)      Motorcycles
Dunk
CB1300 SUPER BOL D'OR
CB400 SUPER BOL D'OR
CB400 SUPER FOUR
CBR250R
CTX700
CTX700N
CBR400R
400X
GROM