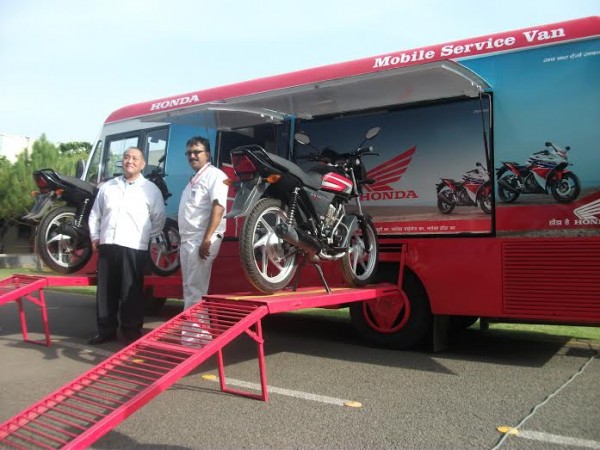 Honda launches unique 'Mobile Service Van' initiative to tap rural customers further to its last touch-point
The all new Mobile Service Van (MSV) takes Honda to rural customer doorsteps
Honda's mobile 3S set-up is equipped with Sales-Service-Spares facility
Next step under Hub & Spoke model to expand Honda's Brand footprint in remote areas
Honda Motorcycle & Scooter India Pvt. Ltd. (HMSI), the only Honda in Indian two-wheeler industry, today took its next step in rural ladder.
Entering the new and empowered Era in India, Honda has developed its Wave 2.0 strategy blue-print which encapsulates how Honda wings aims to realize its potential in hinterlands and achieve its goal of increased market penetration.
It is in this context that Mr. Keita Muramatsu (CEO & President, Honda Motorcycle & Scooter India Pvt. Ltd.) and Mr. Prabhu Nagraj (Vice president, Customer Service, Honda Motorcycle & Scooter India Pvt. Ltd.) today launched its next rural outreach initiative – Mobile Service Van (MSV).
As opposed to a traditional service van, Honda's Mobile Service Van is unique as it combines a dealership & service outlet in a truly mobile format – a boon for reaching out to prospective and existing customers in rural areas at very effective cost.
Within the Mobile Service Van there is ample space for a display two-wheeler, seating arrangement for customers, LED display for better visual understanding of Honda's two-wheeler, provision for test rides and public address system to create customer awareness via regular announcements. The two service bays translate to quality service and genuine spare parts closer to customer. Additionally, the mobile service van is a crucial platform through which Honda will train local service technicians at every hamlet.
Honda aims to expand the concept to 11 mobile service vans by the year end.
Announcing the Honda's Mobile Service Van solution Mr. Keita Muramatsu, CEO & President, Honda Motorcycle & Scooter India Pvt. Ltd., said, "As the only Honda, we are expanding our network into hinterlands. In fact 70 per cent of the approximately 1,000 touch-points that we aim to add this year will be in rural areas. The new Mobile Service Van (MSV) is designed to take Honda one step ahead of even where the reach of its last touch-point ends.
As part of its go-rural approach, Honda has already stepped on the gas. On the product front, Dream series of affordable motorcycles has expanded to include CD 110 Dream, Dream Neo and Dream Yuga. Reaching closer to its customers, Honda plans to take its sales and service network to 3800 by the year end. Parallely, a new rural vertical has been internally created in early 2014 wherein close to 15 people and foot soldiers are closely overseeing Honda's rural strategy, communication and implementation.