Honda Motorcycle & Scooter India will soon introduce two new variants of the Navi Moped in the Indian market. Honda released an ad on the local daily wishing Indians a Happy Navi year and also teased the Navi Adventure edition and Navi Chrome Edition.
The editions will be offered as Kits which will be avaialble on the standard Navi and can be booked online via the Navi App.
In 2016 Honda broke the news with a full page ad wishing all a Happy Navi Year and 2017 with the new editions.
Honda had showcased many concepts and customisation options for the Navi Moped and the Adventure Edtion is one of them.
Navi Adventure Edition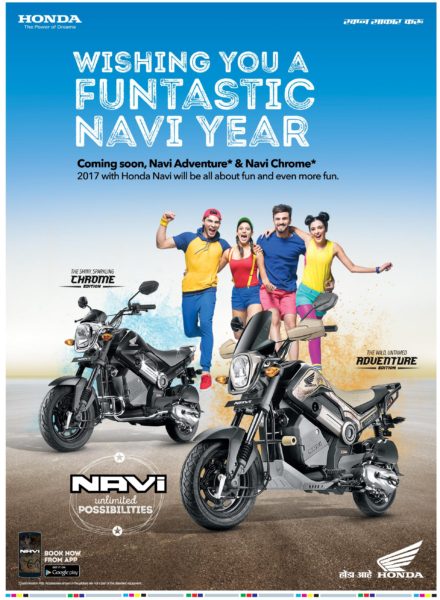 The Adventure edition kit loses a lot of the concept accessories but gets a black wisor, Hand Guard Protectors, a large storage compartment which sits in the space between the fuel tank and frame, crash guard, dual tone seat and decals.
Expect the kit to cost between Rs. 5,000-7,500.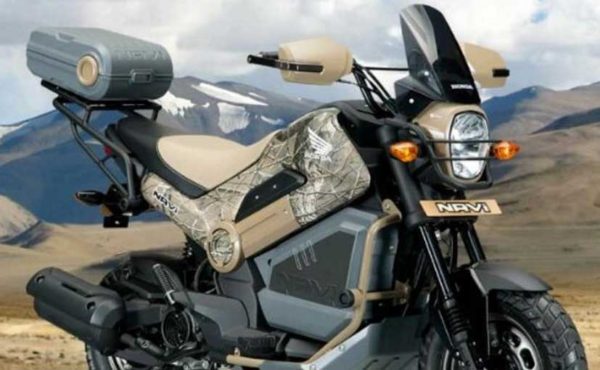 Navi Chrome Edition
The Chrome edition adds Bling with chrome embellishments around the headlight, Pillion handle grab bar, Chrome crash guard and small visor above the headlight.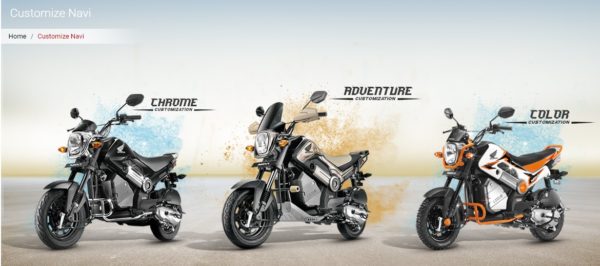 The new editions are a part of the Customize. The Adventure and Chrome editions will be launched soon and will be available as kits at the dealers which mean even existing owners can retro fit the Adventure or chrome edition kits.
The Navi is powered by a 110cc petrol engine with performance figures of 8bhp at 7,000rpm and 9Nm at 5,500rpm. The moped has a company claimed mileage of 60 kmpl.