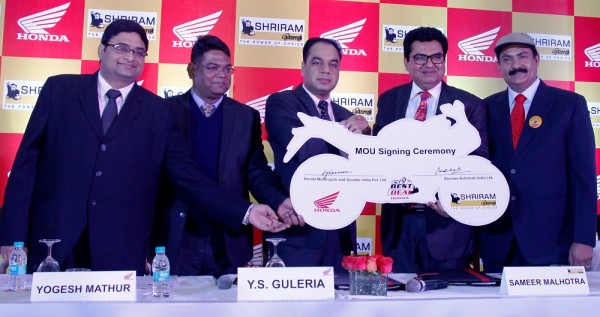 Aims to organize the pre-owned 2 wheeler market in India
Purchase Convenience- Online & Offline platforms
Promises maximum value to sellers
Trust & transparency for buyers
Honda Motorcycle & Scooter India Pvt. Ltd. (HMSI), the only Honda in Indian two-wheeler industry in its yet another industry-first initiative steps forward to organize the pre-owned two-wheeler market. Honda announces exclusive tie-up with Shriram Automall India Limited (SAMIL), a one-of-its kind wholly owned subsidiary of Shriram Transport Finance Company (STFC) to cater to the pre-owned 2-wheeler segment.
As an industry pioneer, Honda had earlier initiated the concept of Certified Pre-owned Outlets under the brand name of 'Best Deal' to serve the organized pre owned 2wheeler market. Within a span of 2 years more than 60 Best Deal outlets are now operating in 11 different states of India.
Key highlights
One stop solution for pre-owned 2 wheelers transactions
Online and physical bidding of the products
Fair valuation of the products by professionals and experts
Private Treaty and one stop classified kiosks stock access
Prior inspection of vehicle before physical bidding
Parking facility for vehicles
Proper documentation of inventory and insurance services
The new tie-up would offer a reliable solution for transactions of pre-owned 2 wheelers. Honda outlets will act as one point contact for customers. The existing Best Deal shall be able to exchange the Old Honda vehicle & deliver that to a Used Vehicle Buyer with refurbishment & certification. At the same time, the tie-up with Shriram Auto Mall will bring in a unique pre-position for Non-Honda vehicles replaced against New Honda Vehicle. Bidding process for such used Non-Honda vehicles will be conducted by Shriram Auto Mall with proper documentation & at Fair Pricing.
Using methodical process of valuation for the pre-owned two-wheelers, the sellers can be assured of the maximum value for their old 2 wheeler and buyers will have multiple purchase options. Also, customers can conduct inspection of vehicles prior to the physical bidding process.
Speaking about this landmark tie-up, Mr Y.S. Guleria, Vice President, Sales and Marketing, HMSI, said, "We are proud that Honda has been at the forefront of ushering in this landmark initiative that would endow benefits like trust and assurance of transparent dealing for all stakeholders. Currently the contribution of pre-owned two-wheeler market is estimated to be 15% of overall sales, but the potential is immense. At present, the industry lacks an organised and reliable structure. Through this tie-up we aim to bridge this gap."
Mr. Sameer Malhotra, CEO of SAMIL, said, "We are delighted to announce our exclusive tie-up with Honda to create an organized market for pre-owned 2 wheelers. With our successful pilot, we are optimistic about the fast growth within very first year of this tie up. Customer convenience, hassle-free transactions, on ground events for physical bidding apart from Online Bidding, Private Treaty and One Stop Classified Kiosks will surely create a huge pull."
SAMIL will organize regular events and online bidding platform, specifically catered to selling pre-owned 2 wheelers of HMSI through multiple platforms dedicated to the business ensuring national reach.
SAMIL has a specialized web-portal, bids.samil.in, where it holds more than 400 bidding events, every month. In 2014, it conducted over 4000 online bidding events. All the techno-savvy customers are targeted through this platform.