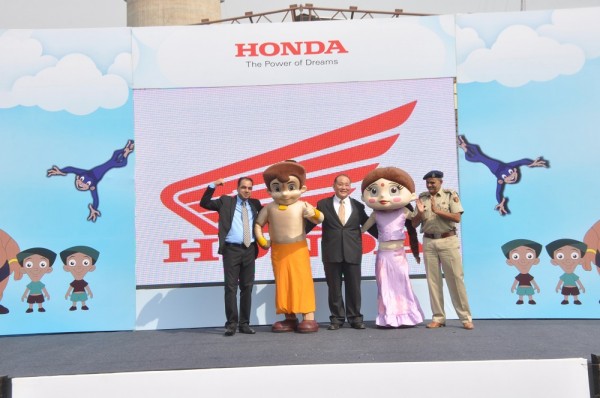 Honda conducts Road Safety activities for children with 'Chhota Bheem' and Çhutki' in New Delhi
More than 1200 families and kids learnt the basics of safe riding and road safety
Honda Motorcycle and Scooter India Pvt. Ltd., the most trusted brand in the Indian 2 Wheeler Industry* with the objective of educating children and young minds on road safety and safe-riding, conducted a fun filled road safety carnival at Dilli Haat, Pitampura, with India's most popular animation characters – 'Chhota Bheem' and 'Chutki'.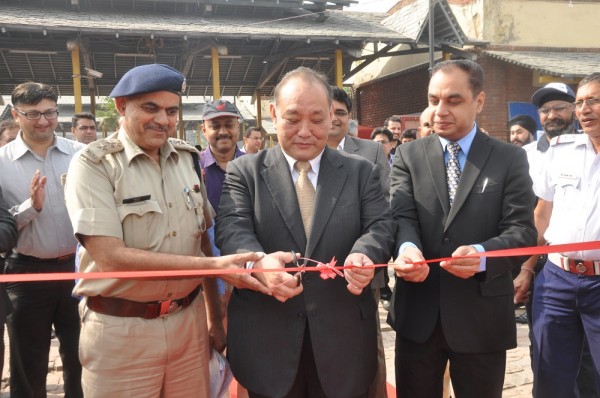 The 'Safe Riding' initiative with Chhota Bheem and Chutki proved to be a resounding success. The event was graced with the presence of Mr. Keita Muramatsu – President & CEO, Honda Motorcycle & Scooter India and Mr. Y.S Guleria, Vice President – Sales & Marketing, Honda Motorcycle and Scooter India.
"Safe riding is Honda's priority worldwide and in India too. Promoting the concept of safe and fun-riding is paramount to Honda's overall vision. The role of children as effective conscience-keepers within families is often underestimated. Conducting such activities with young minds will ensure a positive tilt towards the cause, building a strong foundation for future." said Mr. Keita Muramatsu – President & CEO, Honda Motorcycle & Scooter India Pvt. Ltd.
"As a leading corporate citizen Honda understands its quintessential responsibility towards the society which goes beyond business. We are delighted to have associated with Chhota Bheem to help further spread Honda's Road Safety message. The event today was a great success and we look forward to extending this initiative across many other India cities." said Mr. Y.S Guleria, Vice President – Sales & Marketing, Honda Motorcycle and Scooter India Pvt. Ltd.
As Chhota Bheem & Chutki spread the message of road safety through various fun engaging activities educating kids and their parents, it was a dream come true opportunity for over 1200 families gathered at Dilli Haat.
Amongst the most popular activities were – cycling, the road safety drawing contest, a pledge wall, a photo opportunity and collection booth; and a digital desk for uploading pictures to guest's Facebook page.
Adults were also briefed on the correct riding posture, amongst other things as star attractions Chhota Bheem & Chutki further, urged the families to follow healthy road safety habits such as – abiding to road rules, importance of protective gear and use of helmets while a riding two-wheeler.
About Chhota Bheem Association:
Brand Honda associated with POGO's famous character Chhota Bheem to promote road safety amongst kids and parents. The drive was kick started at Auto Expo 2014, followed by visit to Honda's Traffic Park in Jaipur. The drive will continue to other cities like Indore, Lucknow, Bhubaneswar, Kolkata, Chennai, Bangalore, Ahmedabad, and Nagpur. Continuing its efforts, the New Chhota Bheem TVC is currently being aired on Pogo Channel to further spread the road safety awareness message. Watch out Pogo to avail more information on when Chhota Bheem will be in your city. To register online please visitwww.honda2wheelersindia.com/chhotabheem/index.html.
About Road Safety Promotion by Honda:
Globally, road safety promotion has been Honda's top priorities worldwide since 1970. Under the "People Come First" philosophy, Honda follows Safety as an integral part of all its business activities. In India, Honda established its safe riding concepts over 11 years back. Honda is committed to make Safe Riding an everyday habit of 2Wheeler riders and promotes Road Safety through 'Lifetime Safety Education' starting from 5 years young children to empowering females, new riders and even big bike customers. Democratizing mobility, Honda gives training to new riders and also educates experienced riders on the right method of riding a 2Wheeler. In just one and half years, Honda has trained nearly 83,000 people of all age group at its four existing Traffic Training Parks at Jaipur, Delhi, Bhubaneswar, Cuttack and most recently in Yeola (Nashik). Recently, Honda signed a MoU with Chandigarh Traffic Police to start a traffic training park in Chandigarh.