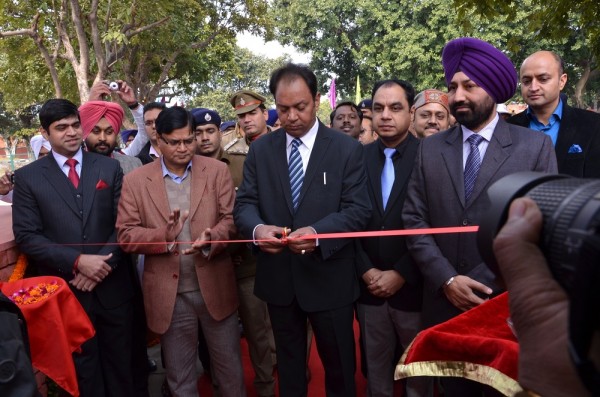 Honda gives Chandigarh a new address for safe riding
Inaugurates renovated Children Traffic Park at Sector 23-A
Daily practical training for females to empower their freedom of movement!
Customized road safety modules for children – the key influencers in every family
Honda safety instructors impart practical & theory training for all age groups on a daily basis
Honda Motorcycle & Scooter India Pvt. Ltd. (HMSI) today inaugurated the newly renovated Children Traffic Park at Sector-23, Chandigarh in association with the Chandigarh Traffic Police. This is Honda's first traffic-park in Punjab and Haryana and aims at spreading awareness on safe and responsible two-wheeler riding habits in the city.
Present at the inauguration of the renovated Children traffic park were Chief Guest Mr. R.P. Upadhyaya – IPS, Hon'ble Inspector General of Police, UT, Chandigarh and Guest of Honour Mr. Yadvinder S. Guleria, Vice President – Sales & Marketing, Honda Motorcycle & Scooter India Pvt. Ltd. (HMSI)
The insights that Honda has gained while educating more than 1.2 lac people at its 6 traffic parks across India have been applied at the Chandigarh Children traffic park.
Elaborating more on this, Mr. Yadvinder S. Guleria – Vice president, Sales & Marketing, Honda Motorcycle & Scooter India Pvt. Ltd. said, "Honda observed that large number of females want to learn riding in a safe and organized set-up so that they can ultimately become independent. For instance, over 2000 females learnt safe two-wheeler riding within 22 days in Delhi. Children too are very enthusiastic learners and effective ambassadors of road safety in their family. Taking this learning further, Honda will provide a Lifetime Safety Education to all age-groups in Chandigarh with a special focus on women and children."
Key initiatives by Honda at the renovated Chandigarh traffic park will be:
100% learning with 0% stress as the specially designed Honda's new Children traffic training park replicates real-life riding conditions but in an organized and secure environment.
Honda's judicious mix of practical riding experience with theoretical knowledge of correct riding posture, traffic signs and rules.
Higher degree of rider comfort and confidence as expert Honda Safety instructors (both women & men) will educate riders on correct riding techniques
Learning will get more fun as Honda's Proprietary riding trainer – a virtual riding simulator will help people above 13 years of age to experience over 100 possible dangers on road before actual riding on road. The biggest advantage for new riders is that virtual experience will significantly increase their ability to predict & react to traffic hazards.
For 9-12 year old kids, Honda has brought in the imported CRF 50 motorcycle. This will help the young minds grasp safe riding concept through the exciting practical riding.
A team of Honda's dedicated female safety instructors will help Chandigarh women realize their dream of becoming independent riders
 About Road Safety Promotion by Honda:
For Honda, promoting road safety has been a global priority since 1970. In India, Honda has educated more than 4 lac people on Safe Riding since 2001.
As a next step, Honda has adopted 7 traffic parks across India. These are located at Jaipur, Chandigarh, Bhubaneswar, Cuttack, Yeola and two traffic parks at Delhi (Roshanara Bagh and Baba Kharak Singh Marg). Till date, Honda has trained more than 1.2 lac people on road safety.
Honda has recently won 2 prestigious awards "CSR initiative towards road safety – Two Wheeler" (at Bloomberg TV Autocar India Awards 2015) and CSR Leadership Award (at Think Odisha Leadership Awards 2014) for its contribution towards Road Safety & Traffic Training.