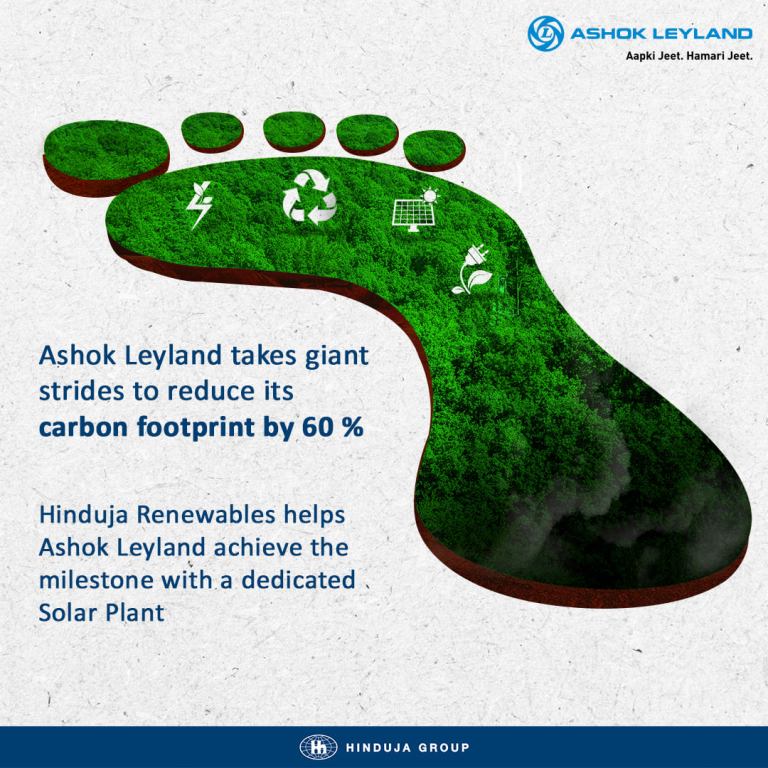 Ashok Leyland, the Hinduja Group's flagship company and India's leading manufacturer of commercial vehicles, today reported that it has increased the procurement of renewable energy for its nationwide operations to 60%. In Tamil Nadu, 75% of its energy consumption is now procured by solar rooftops, solar ground mounts, and wind-based renewable energy, and 60% throughout India.
Hinduja Renewables, part of the Hinduja Group, is focused on building sustainable and clean energy plants in India and has developed a 75 MWp solar plant in Sivagangai district, Tamil Nadu, for Ashok Leyland. This facility is one of the largest group of captive solar plants serving a single customer in India. Over 120 million units of power are expected to be produced annually by the plant.
In May 2020, the journey began for this solar farm. Set up via Prathama Solarconnect Energy Pvt, it's subsidiary. Ltd, ltd. In Vepancolum village, Sivagangai district, Tamil Nadu, it began with site selection, followed by extensive site planning. In a fixed-tilt mounting configuration for peak energy output, the Solar Panels are. In order to relay back real-time data and development, drones were used.
The power plant was commissioned within nine months and is expected to produce more than 120 million units of electricity per year. For real-time monitoring and optimisation, the new technologies and applications are installed. Using data analytics, the firm has applied smart maintenance. Preventive and predictive maintenance technologies over the entire lifecycle of the plant would ensure the best in class capacity utilisation factor. During the construction process, this project created 500 direct jobs and 20+ permanent jobs for plant operations.
Ashok Leyland has relentlessly concentrated on sustainability with several active projects over the past few months. The Leadership in Energy and Environmental Design (LEED) Platinum building certificate has been awarded to its headquarters in Chennai, India. Today, all Ashok Leyland plants collect rainwater, have low-flow water systems to minimize the use of water and recycle all waste to prevent it from going to landfills. This has contributed to Ashok Leyland becoming a positive business for net water.
In line with the water-positive initiative of Ashok Leyland, the solar plant uses robotic cleaning technology to periodically clean solar modules. It is estimated that this innovative technique conserves 9 million litres of water annually. In addition, Hinduja Renewables is introducing a slew of socio-economic initiatives in collaboration with the Hinduja Foundation to uplift the communities surrounding the project.